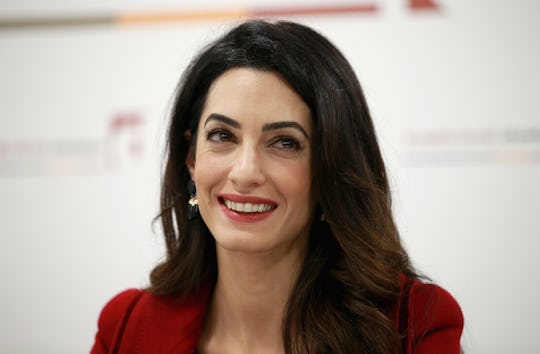 Chris Jackson/Getty Images Entertainment/Getty Images
Will Amal Clooney Rent A Private Birthing Suite?
Soon-to-be first-time parents George and Amal Clooney are gearing up to meet their son and daughter any day now. And although the fact that their family is growing by two hasn't generated quite the media and fan frenzy as fellow celeb power couple Beyoncé and Jay Z — whose revelation that they had twins on the way sent the Beyhive into overdrive — the Clooneys did inspire a high-profile public countdown nonetheless. There's definitely more than enough interest among fans and paparazzi that they're going to want to prioritize privacy — just like Bey made a point to do when she had her first child in 2012. It stands to reason, then, that Amal Clooney will rent a private birthing suite — right?
George Clooney recently hinted that his wife was on the verge of giving birth for the first time when he explained in a video message why he had skipped Sunday's Aurora Prize for Awaking Humanity event in Yerevan, Armenia, which he usually co-chairs. "I really would have been there but if I came there and my wife had twins while I was there I could never come home," the 56-year-old actor said, according to USA Today.
George and Amal, a famed international human rights lawyer, confirmed way back in February that they are having twins. And now, details about their plans for bringing the babies into the world are beginning to emerge: Though no one knows whether Amal will get a private suite, it's all but guaranteed that she'll make sure she has plenty of privacy in general.
E! News reported that the Amal Clooney will give birth in London and that the pair will raise their son and daughter in the United Kingdom. Understandably, they're probably less than enthusiastic about revealing too much about the specifics, which would only make it easier for those intent on snapping a photo or catching a glimpse of the dynamic duo spending those first precious hours or days with their brand new mini-dynamic duo.
It's not unusual for celebrities to seek out special accommodations for their births, because they require the extra security and protection from prying eyes — and because they're able to shell out for it. When she gave birth to now-5-year-old Blue Ivy Carter in 2012, for example, Beyoncé reportedly rented out a luxurious executive suite that boasted flatscreen TVs, sofas, a kitchenette, and more at Manhattan's Lennox Hill Hospital. To ensure privacy and safety, she and Jay Z reportedly had hospital security cameras covered up and, unsurprisingly, brought along their own security detail.
If that seems excessive, consider the way MTV's Jennifer Vineyard described the scene outside UCLA Medical Center in Santa Monica when Britney Spears was a patient there in 2005, having just given birth to her first son: "Paparazzi staked out the facility, as did news helicopters, all lying in wait for a potential shot of the singer or a member of her family."
Yikes.
At a time when everyone with a smartphone can take photos and record video at a moment's notice, and then immediately upload that bounty to Instagram or sell them to a gossip magazine, it's more than understandable that any celebrity would go the private suite route whenever possible.