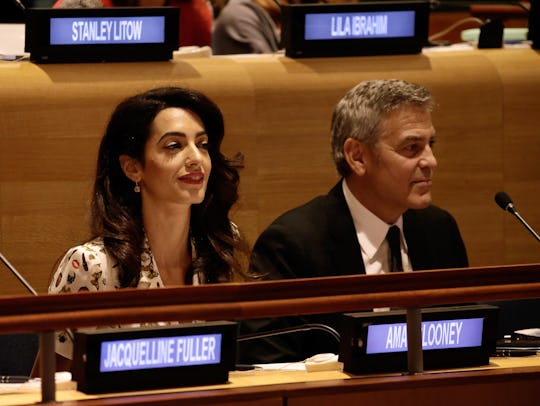 Pool/Getty Images News/Getty Images
Amal & George Clooney Won't Employ A Nanny
For first-time parents, handling one baby is a full-time job, so what is there to do when you've got twins? Will Amal and George Clooney get a nanny for their new little ones, then, helping to lighten the load? The two can definitely afford it, but reports indicate that they're steering clear for now.
According to E! News, baby Ella and baby Alexander won't have a live-in or a full-time nanny around the house. In these super early stages, though, the Clooneys will have a night nurse there to help them set a sleeping schedule for the twins. In addition to the night nurse, Amal's mom, Baria Alamuddin, has also offered her assistance.
Having Amal's mother nearby definitely offers some added comfort and reassurance for the new parents; The Clooneys have chosen England as their home base, nestled in the country, to the west of London. Curiously, though, their mansion does have its own nanny's quarters — an addition that the couple opted chose to add-on themselves.
A hilarious statement released by one of their reps after the births shared that Ella, Alexander, and Amal are all doing fine, but that "George is sedated and should recover in a few days." The 56-year-old father told Extra in March that he's been preparing for the babies' arrival, insisting: "I know what I'm in for." All in all, though, 39-year-old Amal remained pretty independent through out her pregnancy. "She is amazing. I don't have anything to do," George shared at the time. "There is nothing I can do to help, but make tea and stuff."
In the weeks leading up to the twins' birth, George radiated nothing but positivity: "We are really happy and really excited. It's going to be an adventure," he shared on a French TV program. "We've sort of embraced it all with arms wide open." Despite following an irregular timeline and opting to start a family later in life, George isn't letting outside expectations dampen the happiness.
The international law and human rights lawyer and her movie-star husband will without a doubt raise Ella and Alexander with the world at their fingertips, exposing them to the cultures and customs that have informed both parents' experiences. Despite their incredibly busy schedules, George and Amal have also committed to raising their twins sans nanny, which is an impressive feat in and of itself. With Amal's mother and plenty of friends to help them out, though, the two are certainly equipped for parenthood, and are understandably excited for their journey ahead.