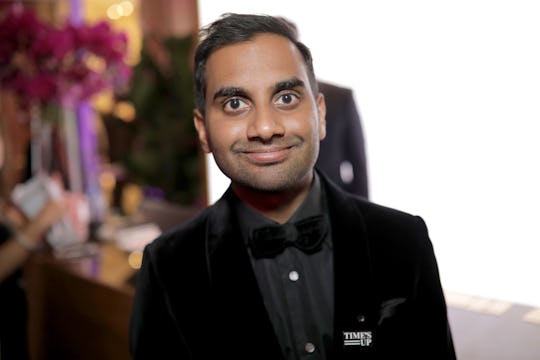 Greg Doherty/Getty Images Entertainment/Getty Images
Will Aziz Ansari Attend The 2018 SAG Awards?
Without fail, award show season is highly anticipated year after year. But this year is different; both viewers at home and celebs alike are paying closer attention to a larger movement — Time's Up — and are calling attention to sexual abuse and unequal treatment between women and their male counterparts in the workplace. And with the Screen Actors Guild awards airing tonight, many are wondering whether Master of None mastermind Aziz Ansari will attend the 2018 SAG Awards after allegations of sexual misconduct surfaced against him last week. Romper's request for comment from Ansari's rep regarding the allegations as well as his attendance at the SAG Awards was not immediately returned.
It seems that viewers will have to wait until stars arrive on the red carpet, but Ansari does have a reason to show up to tonight. According to CNN, he is nominated in the category "Best Male Actor in a Comedy Series" for his role playing Dev Shah in the Netflix series he co-created, Master of None. But, in addition to his nomination, all eyes are sure to be on him since sexual misconduct allegations were made against Ansari just last week, in which an unidentified woman accused Ansari of allegedly pressuring her to partake in sexual acts during their date.
The woman alleged, in the story published exclusively by the website Babe on Jan. 14, that she used verbal and non-verbal cues to communicate that she was feeling "distressed" throughout the night. People on the internet were split if Grace's account even "counts" as sexual assault or misconduct (wrong question), but Grace's story has resonated with many.
Ansari released a statement after the story was published, according to CNN, stating that he thought their interactions were completely consensual. Ansari said in the statement, according to The Hollywood Reporter, "We went out to dinner, and afterwards we ended up engaging in sexual activity, which by all indications was consensual," adding:
The next day, I got a text from her saying that "although it may have seemed OK," upon further reflection, she felt uncomfortable. It was true that everything did seem OK to me, so when I heard that was not the case for her, I was surprised and concerned. I took her words to heart and responded privately after taking the time to process what she had said.
He concluded in the statement that he continues to "support the movement that is happening in our culture." Adding, "It is necessary and long overdue."
Since then, his words have brought up an important conversation about consent. And this is a conversation that will continue whether or not Ansari shows up on the red carpet, but his attendance at the SAG Awards tonight is still up in the air as he has still not been confirmed or denied as going as of Sunday afternoon, according to Reuters.
Looking to Ansari's social media for clues of his attendance is no help — neither his Twitter account or his Instagram accounts have been updated since October — so there is no indication if he is getting ready for the award show tonight. But some people believe that Ansari will be attending the SAG Awards, especially since, according to Hello Giggles, Ansari won a Golden Globe earlier this month in the same category for the same role and opinions on the allegations against Ansari have been heavily divided. Some people believe Ansari has nothing to hide, while others think the opposite.
During his acceptance speech, Ansari stated that he didn't think he would even win the award, according to PopSugar. Ansari's accuser, according to CNN, told Babe that she was "uncomfortable" watching Ansari accept his Golden Globe.
But there is also a chance that Ansari might not show up to the awards show or walk the red carpet. Especially since, according to CNN, this year's SAG Awards will be "leaning into" the "Time's Up" discussion.
Kristen Bell will be hosting this year, and according to E! News, the awards show boasts a line-up of only female presenters presenting the 13 awards that will be handed out in the evening. Kathy Connell, the executive producer for the show, told The Hollywood Reporter in December before the accusations against Ansari were made public, according to E! News, that this all-female presenter line-up would be an ode to women and their stories. "Beginning with the women's march in January, it's been the year of women," Connell said. "This is a unifying salute to women who have been very brave speaking up."
Ansari's appearance, whether he shows up to the awards show or not, will definitely make a statement and won't be ignored. This award show season, starting with the Golden Globes has showed everyone — from people in Hollywood to viewers at home — that women won't be silenced and their stories will not be ignored any longer. There is no better platform to do this than the SAG Awards and the upcoming shows as well.
Connell told The Hollywood Reporter in December that the awards show wouldn't serve as an opportunity to "preach" to anyone about the accusations made against people in Hollywood and that having women presenters would send its own message. But plenty of things speak for themselves, including whether certain celebrities make an appearance on the red carpet or stay out of the spotlight.
Check out Romper's new video series, Romper's Doula Diaries:
Watch full episodes of Romper's Doula Diaries on Facebook Watch.