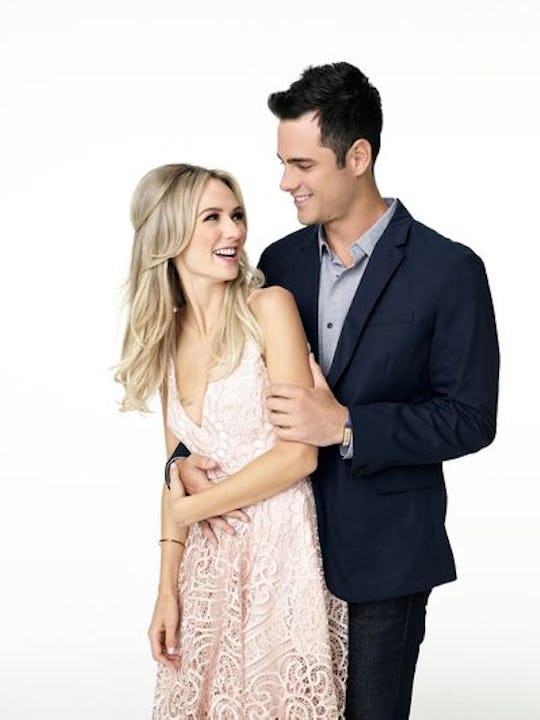 Freeform/Vu Ong
Will Ben & Lauren Get Married On TV? It's Where 'The Bachelor' Couple Met
When you have a couple who not only met on TV in front of millions of viewers, but also got engaged in front of them too, you see it as almost a given that they get married in the same way. But even if that's how their relationship began, will Ben and Lauren get married on TV? When Chris Harrison showed up on Ben and Lauren: Happily Ever After? he asked the couple that very question. And while it took almost the entire episode to get an answer from them, the idea of sharing the next step of their journey with fans felt like too tempting of an opportunity to pass up. Plus, it didn't hurt knowing that the entire thing would be paid for by ABC, so who were they to say no?
But that's what Ben's first instinct was. In fact, he was freaking out after Chris made the offer, though, that's more than understandable. It's totally normal for Ben to feel the pressure of what agreeing to this would mean for the two of them, especially since choosing to get married on TV would likely mean moving the wedding up even sooner than the couple had originally intended. But in the end, the former Bachelor agreed, along with Lauren, that they would take Chris up on the offer to get married on TV in front of 10 million people. No pressure, right?
Ben and Lauren wouldn't be the first Bachelor couple to get married on TV though, as Season 17's Sean and Catherine Lowe also said "I do" on an ABC special. And given that the network will also be footing the bill for the entire wedding, it's kind of hard to just say no to that. So we can't really blame Ben and Lauren for agreeing — even if that means bumping up both the wedding date and dealing with the extra nerves that come along with not just getting married in general, but also doing it on a widely televised scale.
Ben's primary concern has been that they're moving fast, but this is the same guy who proposed to Lauren a few months after meeting her on The Bachelor, so he can't really pull the "pump the brakes" card right now. And while his argument of wanting their families to get to know each other more before their wedding was a legitimate concern, it just means that they'll have to have several joined family reunions in the span of time before they're married on national television.
While it was expected that Ben and Lauren will get married on TV, getting the confirmation was a relief to most Bachelor fans who aren't done watching their love story play out. Something tells me it's going to be a magical experience to behold.