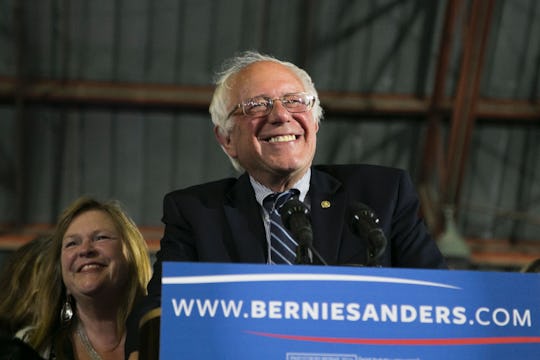 JONATHAN ALCORN/AFP/Getty Images
Will Bernie Sanders' Supporters Actually Support Hillary Clinton? It's Too Early To Tell
Although he stopped short of actually dropping out of the Democratic race this week, Vermont Sen. Bernie Sanders did throw his full support behind rival Hillary Clinton during a rally with the former Secretary of State. Now, many are wondering whether Sanders' supporters will actually support Hillary Clinton as the Democratic nominee for president. It's really anyone's guess, especially as Sanders' supporters have been feeling a little burned since the Associated Press called the primary for Clinton on June 6, following confirmation that she had the requisite number of delegates and pledged superdelegates alike.
Sanders had been busy all that week, especially during Tuesday's primaries in key states like California and New Jersey, ensuring his supporters that he intended to stay in the race until the July convention in Philadelphia. The candidate and his supporters were convinced that it wasn't fair to call Clinton "the presumptive nominee" since superdelegates can change their minds on the day of convention votes.
But after mounting pressure to leave the race so that the party could unite under one candidate and take on the presumptive Republican nominee Donald Trump, it looked like Sanders was finally ready to accept that this wasn't his time, if only in an unofficial capacity.
Sanders entered the race as an underdog and rose to the top of the lineup. But in the end, it wasn't meant to be — and it wasn't just the delegate math that made Clinton the winner. Sanders had about 11,976,173 votes compared to Clinton's 15,676,642. Despite calls of a rigged system, it seemed Clinton was favored regardless.
With his departure, Sanders leaves millions of supporters floundering, many of whom don't know what to do with themselves. But in his statement announcing support for Clinton this week, Sanders noted that the fight against injustice was not over, saying,
It is no secret that Hillary Clinton and I disagree on a number of issues. That's what this campaign has been about. That's what democracy is about. But I am happy to tell you that at the Democratic Platform Committee which ended Sunday night in Orlando, there was a significant coming together between the two campaigns and we produced, by far, the most progressive platform in the history of the Democratic Party. Our job now is to see that platform implemented by a Democratic Senate, a Democratic House and a Hillary Clinton presidency – and I am going to do everything I can to make that happen.
Sanders then noted that Clinton would "make an outstanding president" and said that he was "proud to stand with her ... today."
Clinton would, obviously, be happy to have Sanders' supporters, but there will likely still be work to do to win them over. In her speech on Tuesday June 7, directly following her official nomination call, she specifically reached out to them with open arms, complimenting the senator and his crowds for their passion and sustaining healthy debate.
Whether or not Sanders' supporters will respond in kind remains to be seen. The Sanders campaign and his supporters were dismayed that the superdelegate process managed to declare a primary winner before every state had had a chance to actually vote, after all. There are many factions of Sanders' supporters, including Bernie Bros, that never had any intention of voting for Clinton in a general election. Come November, that could all change.
Sensing this tension, presumptive Republican nominee Donald Trump has also tried to appeal to Sanders supporters, "with open arms." He has commiserated with them over the "unfairness" of the Democratic nominating process and their mutual distaste for the Clinton family. Hopefully some of those bros will see the light come fall.
On June 8, Sanders tweeted, "When we began this campaign we were considered to be a fringe campaign. Over the last year, I think that has changed just a little bit." He added, "We have won 22 state elections with over 11 million votes and in virtually every state, we've won in big numbers the votes of young people."
Now that Sanders has all but officially dropped out of the race — no matter how much you'll miss him — it's time to get down to the business of uniting the Democratic Party. Let's hope even the most dedicated of Bernie Bros will hop on board.