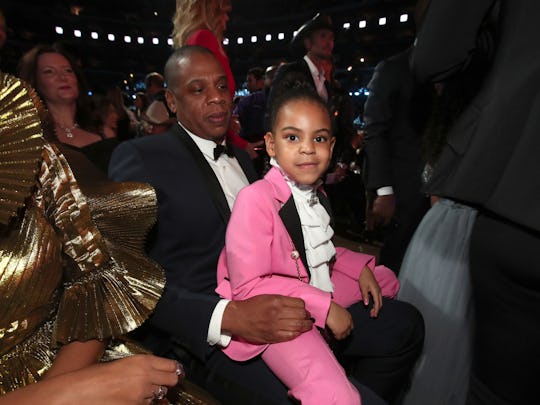 Christopher Polk/Getty Images Entertainment/Getty Images
Will Blue Ivy Watch Beyoncé Give Birth?
Ever since Beyoncé one-upped the world and announced that she was expecting not one but two babies back in February, the Beyhive has been abuzz over the anticipated wave of baby flawlessness that would soon take over news feeds and magazine covers and the public's hearts. But that doesn't mean anyone forgot about Bey and Jay Z's daughter Blue Ivy, whose birth five years ago similarly catapulted fans into a happy freakout mode. So, Queen B diehards, try to will your hearts to be still at the latest (though, sadly, unverified) report about the big Knowles-Carter birth day No. 2: Blue Ivy will reportedly watch Beyoncé give birth — and she'll wear perhaps the most adorable outfit in the history of outfits while she's doing it. Romper did reach out to Beyoncé's representative to inquire about the veracity of the report, and has not yet heard back.
The United Kingdom's Daily Star Sunday newspaper first reported the scoop, citing an unnamed source. 'They're worried that their daughter might feel left out when the twins arrive, so they're trying to make sure she feels involved every step of the way," this unidentified person reportedly told the gossip publication of the celebrity mega couple. Of course, they're notoriously tight-lipped about pretty much every aspect of their personal lives, leaving their fans to wildly speculate about everything from the babies' exact due date (although it must be soon) to the sex of the soon-to-be newborns (even Bey's own mom reportedly doesn't know).
So, why would they divulge this (too cute) aspect of their birth plan via a "source"? Maybe the information is bogus; maybe someone with real information about the plans did decide to go rogue and leak to the press; or maybe Bey herself knew that this tidbit was too sweet not to share with the world, even via an unverified tabloid account.
In the meantime, let's assume the news that Blue will be in the room for the birth is true, because part two is the type of enchanting Bey news that you can hardly even make up: When Blue heads to what will possibly be an executive suite at Cedars-Sinai Medical Center in Los Angeles, she'll be rockin' a little nurse's outfit of her own, because of course.
According to the Daily Star report, Bey already purchased the child's nurse uniform from the French designer Givenchy. It's rumored to have cost around $1,015, the Daily Mail reported.
Blue, of course, already proved she's a star when she stole the show at the 2017 Grammys and hung out courtside with her parents at an NBA All-Star basketball game in New Orleans soon after. There's no doubt she'll be a champ when (and if) she's literally there to welcome her new siblings into the world world, too.