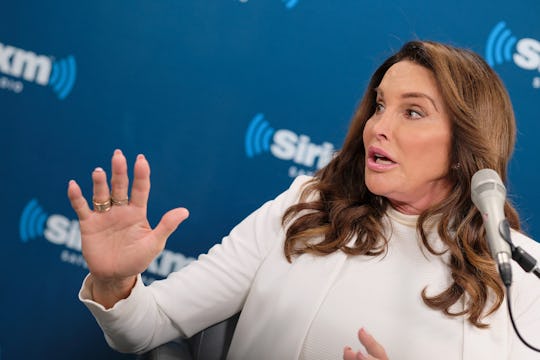 Dimitrios Kambouris/Getty Images Entertainment/Getty Images
Will Caitlyn Jenner Run For Office?
Since coming out as transgender at age 65 and subsequently transitioning in the public eye as a reality TV star, Caitlyn Jenner has been an unwavering advocate for LGBTQ rights. She's also established herself as a bit of an enigma by openly talking about her Republican views and announcing her support for now-President Donald Trump. So, her activism, somewhat puzzling brand of political engagement, and through-the-roof fame have some interviewers asking whether Caitlyn Jenner will run for office as she makes the rounds to promote her newly published memoir, The Secrets of My Life. And because she wants so passionately to improve the quality of life for her fellow transgender Americans, Jenner is not ruling out the possibility.
In speaking with another author and LGBTQ advocate, Jenny Boylan, before a New York City audience Tuesday evening, the Keeping Up with The Kardashians star said that fans had asked her to run in the past, according to CNN. That was when she was still known as Bruce, though. At the time, believed she had "way too many skeletons in [her] closet" for a political bid. Now, it's just a matter of whether becoming a politician or continuing her work with her foundation would make her the best advocate. If it turns out that her "working from the inside" would most benefit her community, she said, "I would seriously look at a run."
CNN's Don Lemon recently asked Jenner about her political intentions, to a similar response:
Whether or not she ultimately decides to run for a Senate seat representing her native California — as Republican political consultant Margaret Hoover suggested while interviewing Jenner for The Daily Beast Wednesday — it's clear what issues are at the forefront of Jenner's mind. In an interview with Tucker Carlson of Fox News Wednesday, Jenner said that she is a Republican because she believes in limited government and the Constitution, but is nonetheless "disappointed" by Trump's first 100 days in office. (Notably, he rolled back protections for transgender students that his predecessor, President Barack Obama, had put into place.)
So, although she's open to talking to Trump about these issues, she's not loyal to him in the least, as she told Carlson:
He looked like he would be pretty good on all LGBT issues, which is important, because my loyalties do not lie with Donald Trump. My loyalties do not lie with the Republican Party. My loyalties — and what I'm fighting for — [lie with] my community, the LGBT community, and particularly the trans issues that are out there because there are many of them. So, that's where my fight is. I thought Trump would be pretty good, but he's kind of disappointed me in the first 100 days on those issues.
As a onetime reality TV star himself, Donald Trump has shown by winning the presidency that a total lack of political experience doesn't preclude someone from succeeding in American politics. But whether or not Jenner ultimately does opt to capitalize on her own fame to snatch a seat in the Senate or elsewhere in the government, it's hard to deny the impact she's already made on the national conversation surrounding LGBTQ rights.