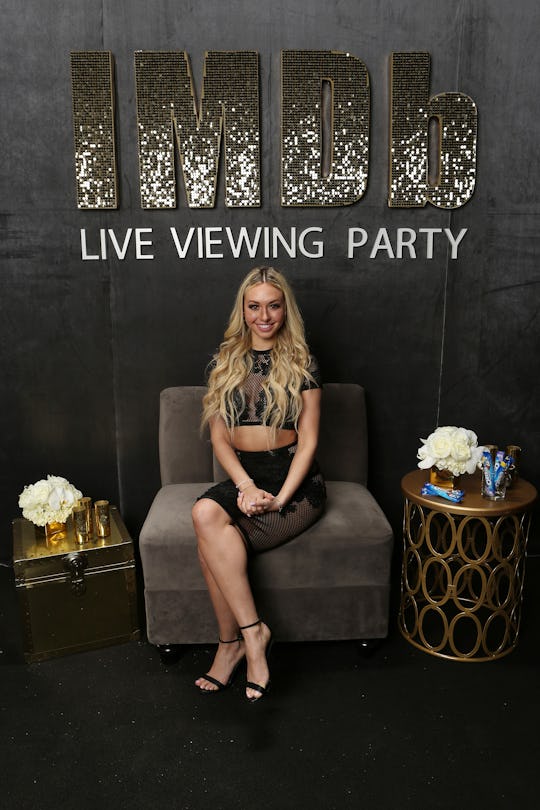 Rich Polk/Getty Images Entertainment/Getty Images
Will Corinne's Investigation Stop 'Bachelor In Paradise' Filming?
As many Bachelor Nation fans are aware, following a 10-day long internal investigation into an alleged instance of misconduct on the set of Bachelor in Paradise, Warner Bros. announced on Tuesday that it would restart filming the show in Mexico. However, one of the contestants involved in the alleged incident, Corinne Olympios, along with her team of lawyers, have said they aren't backing down and will proceed with their own investigation, without the studio. So, will Corinne's investigation stop filming on the newest season of Bachelor in Paradise? As of now, nothing has been confirmed.
After an internal investigation, Warner Bros. released a statement on Tuesday, announcing the end of its investigation, and the continuation of filming. After reviewing the tape of the alleged incident, the company stated,
The tape does not support any charge of misconduct by a cast member. Nor does the tape show, contrary to many press reports, that the safety of any cast member was ever in jeopardy.
This, though, was in direct contrast to what numerous anonymous sources have alleged, stating that Olympios was too drunk to give consent to fellow cast member DeMario Jackson. So now, hours after Warner Bros. concluded their investigation, Olympios' lawyer has spoken out. Romper has reached out to Warner Bros. for comments on the latest developments and is awaiting a response.
"It needs to be made crystal clear that production of Bachelor in Paradise was shut down because of multiple complaints received from BIP producers and crew members on the set," Olympios' lawyer, Martin Singer, said in a statement. He continued:
It was not shut down due to any complaint filed by Corinne against anyone. It comes as no surprise that Warner Bros., as a result of its own internal investigation, would state that no wrong doing had occurred. Our own investigation will continue based on multiple new witnesses coming forward revealing what they saw and heard.
After TMZ reported that the Warner Bros. investigation was over, questions still lingered. Neither Olympios nor Singer were present for the investigation, though Jackson's attorney was. So it makes sense that Olympios and Singer would wish to pursue further legal action.
When there are reports and allegations of sexual assault, legal measures should be taken seriously. And until Olympios releases her own statement on all that has transpired recently, she should be granted privacy. Previously, Olympios has said that she is a "victim," and until any subsequent inquiries are complete, nothing should be assumed.