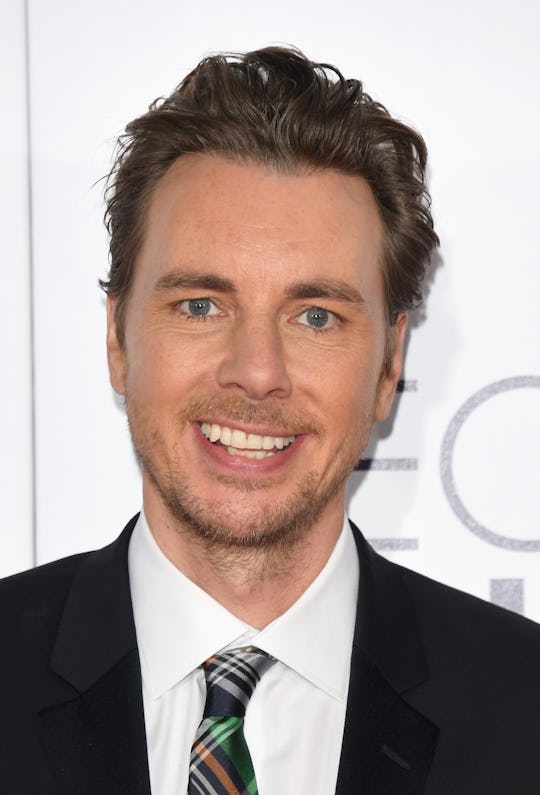 Alberto E. Rodriguez/Getty Images Entertainment/Getty Images
Dax Shepard Has A Very Good Reason To Attend The 2018 SAG Awards
Dax Shepard and Kristen Bell have one of those marriages that give you serious relationship goals. Not due to the fact that they're a glamorous Hollywood couple, but rather because they seem to really support and love each other. So it should come as no surprise that Shepard has been totally supportive of Bell's upcoming hosting gig for the SAG Awards this year. But will Dax Shepard attend the 2018 SAG Awards?
According to Bell, Shepard has been helping her prepare for the role as the first ever official host of this particular awards ceremony and although that might be daunting to some, thanks to her husband, she seems plenty prepared. "He doesn't really give out pointers or advice so much as he gives out unending support, which is very nice, but he does let me run things by him, which is great," Bell recently told People. She added that since Shepard is also a writer, he's been able to be her sounding board for ideas of what she might say during the show on Sunday, Jan. 21. "I'm like, 'Is this funny?'"
Shepard, who wrote and directed 2017's CHIPS, has given Bell advice on the upcoming hosting gig, but has also been her unofficial collaborator in writing her material, according to the actress. "In bed, I'm always like, 'Honey, is this funny? Can you punch this up for me?,'" she told Entertainment Tonight. "So I do, yes, I have a secret writing partner." As far as Shepard actually being in attendance to support Bell in person as she hosts the 2018 SAG Awards, it's almost a given that he'll be there to cheer her on. However, neither have said yet if he will definitely be at the show.
This will mark the 24th year of the SAG Awards, but the first time the show will have an actual host to keep things together and move it along, though there have been presenters for each category at the awards show over the years. Having Bell as the host this time around is kind of a huge deal, but with the way her career has progressed, it's no wonder that someone who is involved in both TV and movies would be the perfect person to host the event.
While she plans to address the important issues going on in Hollywood right now, which include both the #MeToo and Time's Up movements, Bell also said this week on Jimmy Kimmel Live that she hopes to bring something light hearted to everyone as well. "I feel confident in that I can bring joy, which I feel like we need a little bit of right now, and forward momentum," she said. She also added that all of the presenters at the 2018 SAG Awards will be female, which pays tribute to the need for inclusion and gender equality in Hollywood.
Bell is notoriously candid about her life with Shepard and their two adorable toddlers, Delta and Lincoln. And likewise, he can't seem to get through an interview without bringing her up because, like I said, they are seriously relationship goals. While neither Bell or Shepard have confirmed that he'll be there Sunday night to watch his wife as the first ever host of the award show, I can't imagine either one of them doing something so monumental without the other one there to be in their corner if they need them. So if I was a betting person, I'd put my money on the assumption that he'll be there with bells on.
Check out Romper's new video series, Romper's Doula Diaries:
Watch full episodes of Romper's Doula Diaries on Facebook Watch.