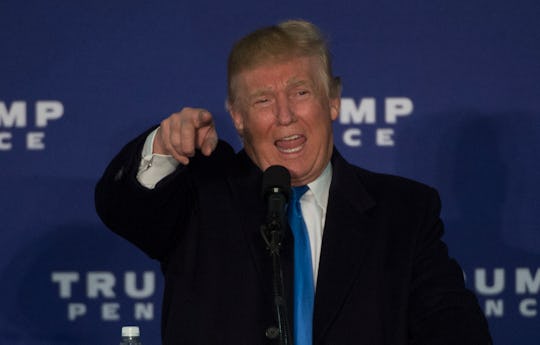 MOLLY RILEY/AFP/Getty Images
Will Donald Trump Be Tweeting On Election Day? Staff Is Keeping His Account On Lock Down
Forget the nuclear codes, or the most sensitive government secrets — Donald Trump's campaign staff isn't worried about those. They're just trying to keep their candidate from melting down at 3 a.m. on Twitter. Will Donald Trump be tweeting on Election Day? His staff is keeping his account on lock down in the days leading up to the election.
They're probably right. When it comes to the man who stands on the precipice of leading the most powerful country in the world, he just can't handle himself when he starts tapping on his Android. CBS News is reporting that, according to a New York Times report from the weekend, The Donald is banned by his staff from Tweeting.
Twitter really has been a problem for Trump over the course of the campaign. In fact, recently the New York Times decided to try and catalog the breathtaking numbers of people Trump has slammed, insulted, ridiculed, and demonized on Twitter and the result was a detailed two-page spread listing the 282 people, places, and things that have been unfortunate enough to fall into his Tweet storm cross hairs.
It's a veritable who's who of Beltway media and power politics that round out the list of folks Trump has attacked on Twitter. You've got "lightweights" Megyn Kelly, Florida Sen. Marco Rubio, former Florida Gov. Jeb Bush, and Don Lemon, just to name a few. There's "Pochahontas" Elizabeth Warren, "dummy" and Arizona Sen. John McCain, "dopey" Mark Cuban, and of course the 3 a.m. Twitter tantrum directed at former Miss Universe Alicia Machado, who he called "disgusting" and accused of having a sex tape, according to CBS News.
You know, the way American presidents so often refer voters to screen a sex tape during a national campaign... Here's the full list of Trump's Twitter insults.
So now Trump's staff, led by campaign manager Kellyanne Conway, have wrestled away the candidate's smartphone to keep his Twitter account from derailing his own message in the last few days of the election. For now, Trump is sticking to more generic Tweets like this one.
But that begs a very important question: Why are these people trying to elect a man to be president who can't be trusted with his own Twitter account? At some point don't these staffers and sycophants come to the realization that a person who lacks the discipline to keep from blowing up his candidacy 140 characters at a time might not be someone the country can trust with our biggest and most dangerous decisions?
Odds are, once the returns start coming in on election night, Trump won't be able to help himself and will probably take up tweeting once again. If he's ahead, you can bet Trump will be happy to declare himself the supreme ruler of the universe. If he's behind, the Twitter-verse can probably expect calls that the election is "rigged" as Trump has done so many times before. Democracy be damned, Trump isn't likely to start losing gracefully now.
And while Trump's Twitter antics have fueled too many news stories over this election to count, it's funny to think about the candidate sitting on a golden throne having his Twitter access cut off like a child. But then you think about the fact that this man is within hours of potentially being elected as our president, you have to wonder who the people around him are and why they are trying so hard to convince America that Trump is a wise choice when he can't even be trusted on social media. Is that really how they propose to "Make America Great Again"?