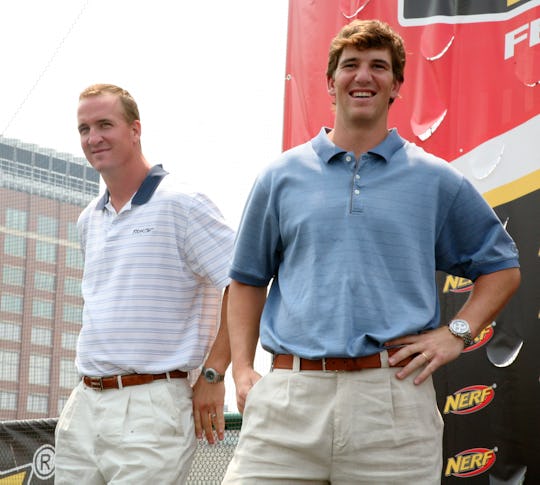 Astrid Stawiarz/Getty Images Entertainment
Will Eli Manning Go To The Super Bowl? He Has To Support His Big Brother
There are very few sports families that are more iconic and more accomplished than the Mannings. Eli and Peyton Manning, both quarterbacks, have both been to the Super Bowl multiple times in their stellar football careers. You'd think there might be some serious sibling rivalry, especially since Eli's team, the New York Giants, didn't make it this year. Fans may be wondering, will Eli Manning got to the Super Bowl? In short, definitely.
This game is hugely important to the Mannings for a few reasons, any one of which would be enough to put the competitive spirit between them aside. First, this Super Bowl is likely to be Peyton's last game. He's 39 years old and he's had a 17-season Hall of Fame career. Also, according to the Washington Post, Manning, who plays for the Denver Broncos, offhandedly told Patriots Coach Bill Belichick that the game would likely be his last. Just after defeating the Patriots in the AFC Championship game, the ESPN mics picked up Peyton saying, "Hey listen, this might be my last rodeo. So, it sure has been a pleasure." What manners! What sportsmanship!
But, that's all just speculation. Peyton has not officially announced his retirement. Not even his brother knows for sure, but on Wednesday Eli said during a conference call that he wouldn't be surprised if Peyton did retire, according to the Giant's website:
I think I kind of think like everybody else where you see this as possibly being the last game. I don't know if he knows himself or if he's thought about it. When you get to year 19 and kind of deal with some injuries and things going on, it'd be a good way to go out. I don't know if it is, but because of that possibility, I hope that he can win this game and if he decides to hang it up, go out on top.
Of the three times Peyton has gone with the Broncos to the Super Bowl, only one resulted in a win. That's another reason this is an important game: unfinished business. Peyton has had an incredible career, but, still, he has yet to achieve more than one Super Bowl Championship wins. Who has? Well, little brother Eli, of course. But, Eli hasn't rub it in Peyton's face. Eli said later, according to the Giant's website, "There's no bragging rights just because we both know that it's a team effort."
Eli's role on Team Manning this year will be cheerleader, which is an indispensable position. He'll be there, in the stands, rooting for his brother.