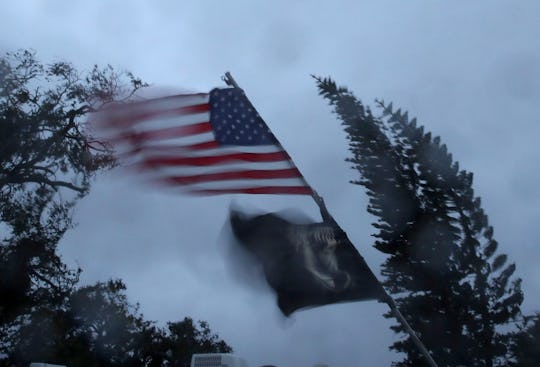 Mark Wilson/Getty Images News/Getty Images
Will Florida Extend Its Voter Registration Deadline Because Of Hurricane Matthew?
Florida residents in the path of Hurricane Matthew have been warned to evacuate, as the Category 4 hurricane is expected to cause significant damage as it rips through the state. But, thanks to the storm, those who haven't yet registered to vote in the Nov. 8 election might just be out of luck. Will Florida extend its voter registration deadline because of Hurricane Matthew? According to Fusion, the Clinton campaign has publicly requested that Florida Gov. Rick Scott extend the Oct. 11 registration deadline to accommodate those affected by the hurricane. But Scott — a Trump supporter — has nixed the idea, saying that voters have "had a lot of time to register," and told reporters Thursday that there are "lots of opportunities to vote" in the election.
There's no doubt that, in addition to the effect the hurricane could have on the state of Florida, it could also have a huge impact on the election itself. Florida is an important swing state, and there isn't much time left until voters are expected at the polls. Yet the arrival of Hurricane Matthew has essentially placed both parties' campaigns completely on hold, as campaign staff, volunteers, and pretty much the entire state are focused on trying to stay safe.
According to The Tampa Bay Times, the Clinton campaign called for an extension on the registration deadline after groups in support of Clinton reported that they had to cancel a number of registration drives they'd planned because of the hurricane. The days leading up to the deadline are typically very important, not just because the campaigns themselves want to capitalize on that time, but because they usually do result in a surge of registrations. University of Florida professor Daniel A. Smith told The Tampa Bay Times that, in 2012, "about 50,000 people registered during the final five days," thanks to increased interest in voting as the deadline approaches.
In general, an event like a hurricane can delay an election campaign by "about a week to 10 days," Tallahasee-based GOP strategist Brett Doster told CNN, which is a significant amount of time, especially this close to an election. But the candidates' actions following the hurricane could also be make-or-break, and could have a huge influence on undecided voters. When Hurricane Andrew hit in 1992, then-President George H.W. Bush was running against then-Arkansas Gov. Bill Clinton in a general election. According to CNN, Bush was heavily criticized for what many considered to be a slow-response to provide federal relief to Florida, which certainly didn't help his campaign.
But candidates can also see their campaigns strengthened following natural disasters, particularly if they are the incumbent. When Hurricane Sandy hit in 2012, President Obama was able to demonstrate his ability to lead the country in its wake — something then-Republican presidential nominee Mitt Romney couldn't as easily do, since he did not have an official capacity to act, according to CNN. And since Obama will be expected to step in once again to provide leadership and support in the aftermath of Hurricane Matthew, it's possible that Clinton's campaign could benefit from his role as a Clinton surrogate. At the same time, Trump has shown his willingness to make an appearance on the ground after a disaster: he was viewed favorably by Republican voters after stopping in Louisiana following the devastating floods earlier this summer.
Clinton's campaign has already received criticism in relation to the hurricane though, thanks to a report that her team opted to purchase $63,000 worth of advertising on The Weather Channel knowing the Florida voters would likely be tuned in looking for hurricane coverage, according to Politico. Clinton's camp has since backtracked the plan, and has asked that the ad buy be placed on hold until after the hurricane, with Clinton spokesperson Jesse Ferguson explaining that the Weather Channel buy was only a sliver of a larger ad campaign:
Over the past few days, our campaign made millions of dollars of adjustments and refinements to our TV buys on dozens of different cable stations in markets all across the battleground states. The Weather Channel represented less than one percent of that spending. These shifts were part of our regular updates to maximize efficiency, effectiveness and reach of our ad buy.
But according to The Los Angeles Times, Republican critics have said it was a bad call all around, and chastised it as opportunistic. Republican National Committee chair Reince Priebus said in a tweet that "pulling these ads after getting caught won't cut it," and that Clinton was "using [the] storm for votes," while Trump spokesperson Steven Cheung called the move "appalling."
There's no doubt that Hurricane Matthew could have a huge effect on the presidential election, for a variety of reasons. Public opinion of the candidates' response could influence undecided voters in ways no one expected, and perceived missteps, such as Clinton's ad buy, could leave a bad taste in voters mouths. But there is also the more practical issue of whether everyone in Florida who actually intended to register to vote will indeed be able to now that the priority has shifted towards evacuation and safety — and without an extension on the deadline, that could end up having significant consequences on which candidate ends up winning in November.