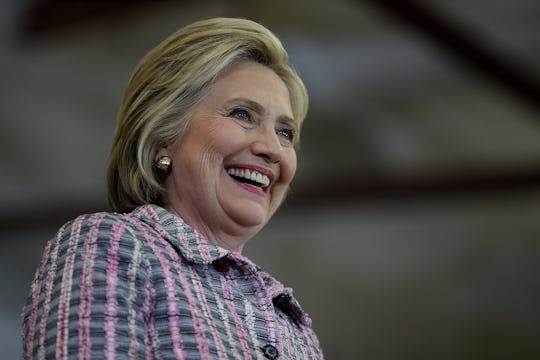 Justin Sullivan/Getty Images News/Getty Images
Will Hillary Clinton Have Enough Superdelegates At The Democratic Convention? It's Likely
Monday night, following what was without a doubt a long and exhausting primary season, everything became official: Former Secretary of State Hillary Clinton officially had enough superdelegates to ensure her nomination as the Democratic Convention this July. After winning in the American territories Guam and Puerto Rico over the weekend, Clinton now has 517 superdelegates and and 1,812 delegates, which adds up to exactly the "magic number" of 2,383 delegates needed to clinch the nomination. Vermont Sen. Bernie Sanders has a total of only 1,569 delegates, which means the candidate might have some serious decisions to make before heading to convention in Philadelphia.
Clinton has been inching her way to the nomination this summer for some time and now that she has already secured enough delegates to take the nomination, Tuesday's primaries in California, New Jersey, New Mexico, South Dakota and Montana are sort of just the icing on the cake. This is pretty bad news for Sanders, since as of this weekend, he was still hoping that Tuesday's primaries, which he was predicted to win, would give him an edge on the Clinton campaign. And a reason to stick around until the convention. According to The New York Times, Sanders said that, "It is extremely unlikely that Secretary Clinton will have the requisite number of pledged delegates to claim victory on Tuesday night."
Now, the two candidates are going into Tuesday's final primaries with Clinton very much ahead. The entire primary season, for both Democrats and Republicans, has come down to this very tricky and (seriously, very) complicated delegate math. Donald Trump, too, earned enough delegates to make a solid case for his nomination, and his opponents dropped out slowly, but surely, as he inched closer to that "magic number."
It might not be so easy for Clinton if voters are to take Sanders at his word. Sanders, and his supporters, have been vowing to not back out of the race until the convention. But given the new delegate math as of Monday evening, it might be hard to justify sticking around. At this point, a contested Democratic convention might not be the best way for Democrats to take on Donald Trump, or whoever the Republican nominee may be (but it looks a lot like Trump) in the general election.
In a heated election cycle like this, every day matters. Whether or not Sanders stays in the race is already secondary to the fact that the Clinton campaign has already pretty much pivoted toward taking on Trump as the presumptive nominee. A recent Saturday Night Live sketch had Kate McKinnon's Clinton dancing Larry David, as Sanders, right out the door. All jokes aside, Clinton's speech on foreign policy last week was a clear sign that she intends to go all the way.
But so does Sanders. He's has been running on principles and the fact that superdelegates are still technically up for grabs until the convention. That doesn't seem to be Clinton's main concern at this point. If anything, it's Trump who would love to see Sanders run until the convention and even, possibly, as a third party candidate in the general election. Things are about to get very, very complicated for the Democratic party.