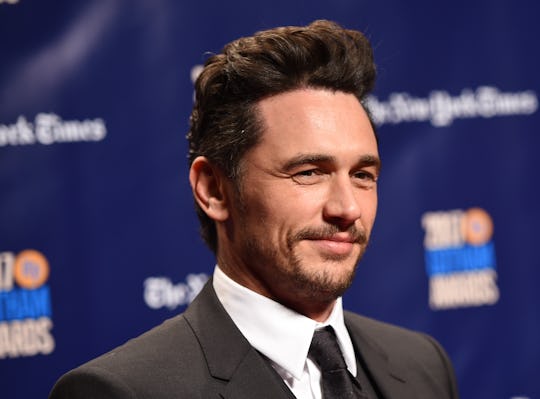 Dimitrios Kambouris/Getty Images Entertainment/Getty Images
James Franco Is Set To Attend The 2018 SAG Awards Amid Sexual Misconduct Allegations
After watching him support the Time's Up movement and women in entertainment on the Golden Globes red carpet, multiple women have reportedly accused James Franco of sexual misconduct, according to E! News. He has since taken a step away from the spotlight by skipping the Critic's Choice Awards, but he's apparently not planning on staying away for long, according to a source who told Entertainment Tonight that James Franco will attend the 2018 SAG Awards on Sunday night. Romper's request for comment from Franco's rep regarding the allegations as well as his attendance was not immediately returned.
The 39-year-old actor is nominated for an award for his performance in the Disaster Artist and denies all of the allegations, according to Page Six, which include allegedly coercing an ex-girlfriend to perform oral sex on him and allegedly sexually exploiting female students at his film school by removing safety guards in sex scenes and "being visibly angry" when women refused to film topless, according to reports in both the Los Angeles Times and Variety. During the Golden Globes, Ally Sheedy tweeted about his alleged behavior, writing in a now deleted tweet, "why is James Franco allowed in?"
A source told Entertainment Tonight that Franco plans on facing Hollywood, despite the allegations. "James will still attend the SAG Awards because there is no reason not to. He will carry on supporting the cause and moving forward," the source told the outlet. Another source told People that Franco has been "calling old girlfriends" to ask them about past behavior. "He's known this was coming and was trying to get ahead of the story," they added.
Franco has been on both Stephen Colbert and Seth Meyer's late night shows since the allegations came out and addressed them on both. He told Meyers that he doesn't plan on "actively refuting" the accusations. According to Vulture, he added:
There are stories that need to get out. There are people that need to be heard. I have my own side of this story, but I believe in these people that have been underrepresented getting their stories out enough that I will hold back things that I could say just because I believe in it that much. And if I have to take a knock because I'm not gonna try and actively refute things, then I will, because I believe in it that much.
He told Colbert, according to a clip from the segment, "I completely support people coming out and being able to have a voice because they didn't have a voice for so long. So, I don't want to shut them down in any way."
It's that refusal to "shut down" the allegations while supporting the Time's Up movement that might strike some women in the attendance as hypocritical at Sunday's SAG Awards. Either way, it likely won't be a comfortable night for the actor, since the show is reportedly going to focus on women in Hollywood, with Kristen Bell as host and the Time's Up initiative. The SAG organizers don't plan on any incidents, though, they are aware of the relationships between their nominees. Kathy Connell, the show's executive producer told USA Today:
We're always conscious of relationships. We particularly like the positive ones, where we get to put people who might be in two different casts but might have a very positive relationship or be married or be engaged or be in love closer together. So, we're always cognizant of who's in our room.
That might be a good idea, since on Saturday, actress Scarlett Johansson referenced Franco in her Women's March speech in Los Angeles. She said, according to Us Weekly, "How could a person publicly stand by an organization that helps to provide support for victims of sexual assault while privately preying on people who have no power? I want my pin back, by the way." Her representative later confirmed to Us Weekly that she was, in fact, talking about Franco.
Since he won at the Golden Globes and at the Critic's Choice Awards, despite being absent from that one, it's possible that Franco will get a moment on stage Sunday night to address the situation.
Check out Romper's new video series, Romper's Doula Diaries:
Watch full episodes of Romper's Doula Diaries on Facebook Watch.