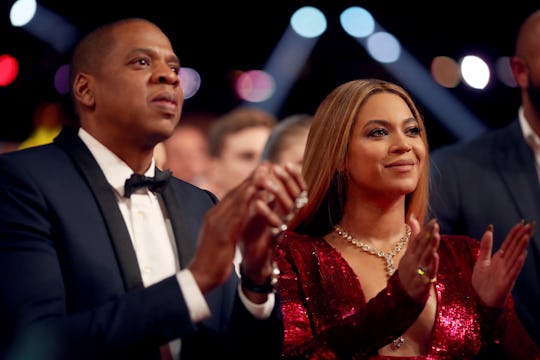 Christopher Polk/Getty Images Entertainment/Getty Images
Will Jay Z Talk About The Twins On His New Album?
During the same whirlwind weekend that (mostly unconfirmed) news reports that Beyoncé had already given birth to her twins began to fly, her husband, Jay Z, shared another revelation. Obsessed Knowles-Carter fans are psyched to know that his new visual album, 4:44, is dropping on Tidal June 30, according to Rolling Stone. That's exciting enough, but the fact that there's a real chance that Jay Z will reference the twins on his album really takes it to the next level. Fans will have to wait until the release date to know for sure, but it seems more than likely that the two newest additions to the family will get a shoutout over the course of the project.
Either way, Jay certainly had quite the Father's Day Sunday, as it was the day anonymously sourced reports that he and Bey had welcomed twins to join their 5-year-old daughter, Blue Ivy, earlier in the week dominated the internet. Bey's own dad even appeared to confirm the news in a Twitter post, but some fans are waiting to hear the news from Beyoncé or Jay Z before believing it 100 percent. So far, though, both have been silent — on that subject, at least. Just before midnight Sunday, a 4:44 teaser video called "Adnis" graced Tidal, Billboard reported. The official confirmation about exactly when 4:44 was on the way followed not long after.
Of course, June 30 is more than a week away, meaning that maybe, just maybe, the happy parents will have shared some information about their newborns by the time it goes live. Perhaps we will even have basked in the glow of an Instagram pic or two of Blue with her two new sibs! Even if that is the case, though, fans are always eager to glean more information about this notoriously private superstar couple and their growing family. So, many of them will probably be subscribing to the music streaming service Tidal right now in an effort to be among the first to know just how personal 4:44 gets, and whether Jay will bring up those babies in it.
Because he's done it before. He and Bey released a single called "Shining" with DJ Khaled back in February, very soon after the epic Instagram post announcing her pregnancy took the world's collective breath away. At the top of the track, Jay rapped:
Don't let me have a son, I'm a fool/send him to school in all my jewels./I want a boy and girl, I fight for truth/whatever God give me, I'm cool.
Was it a sign that the twins-to-be were, in fact, a boy and a girl? Would Jay give away such information so easily? It was impossible to know for sure — but that doesn't mean that he won't clarify things in a future project, such as 4:44, for example. There's only so much that's possible, though. Because production for the film — which stars entertainment giants Mahershala Ali, Danny Glover, and Lupita Nyong'o, according to E! Online — probably wrapped ages ago, it's hard to imagine how it could offer actual images of the twins. But here's hoping that Jay opted to work in some lyrics about his family and the two little ones, whose arrival they have anticipated for so long.
And I, for one, will definitely expect to see them starring in their parents' projects sometime soon, if not in 4:44. After all, Beyoncé dedicated an entire song to Blue Ivy in her 2013 surprise visual album, featuring the little girl prominently in the video for "Blue." More recently, Blue made an appearance in the 2016 "Formation" music video.
If that's any indication, these tiny twins are going to grow up to be stars, whether their introduction to entertainment starts with 4:44 or not.