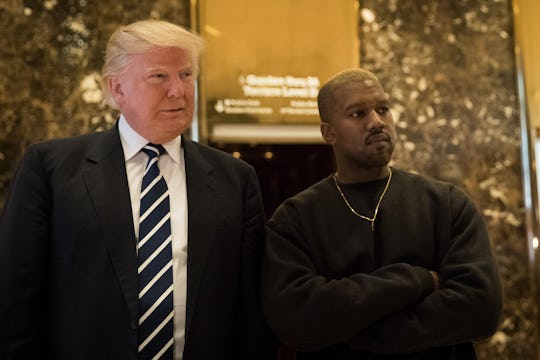 Drew Angerer/Getty Images News/Getty Images
Will Kanye West Perform At Trump's Inauguration? Kanye Claims He's A Fan
Call him anything but predictable. Rapper, fashion designer, and Kardashian-adjacent reality star Kanye West visited Trump Tower on Tuesday morning, and now fans are wondering if Kanye will perform at Trump's inauguration. Or could they be meeting for another reason? West did sort of compliment Trump recently; During a rant at one his concerts, he said that although he didn't vote in the presidential election, if he had, he would have voted for Trump. Not quite high praise, but it's better than what most celebrities have to say about the president-elect. West has also said that he plans to run for president himself in 2020, which is not exactly a ringing endorsement of Trump either.
According to The New York Daily News, West is the one who requested an audience with Trump, and the meeting was expected to last just 15 minutes. About an hour after West's arrival, the pair appeared in the lobby together, where they shared little information with the press. Trump repeated over and over that he and West were friends, and when asked what they'd discussed, he said simply, "Life." West appeared dazed in front of the cameras, ignoring several questions before stating that he "just want[ed] to take a picture."
West has been having a tumultuous few weeks lately. In late November, his concert tour was punctuated by a series of rants about Trump, Beyoncé, and others before ultimately being cancelled entirely. Soon afterwards, he was placed on a psychiatric hold and hospitalized for eight days, reportedly suffering from what his doctor described as "temporary psychosis," according to Spin magazine. The doctor, Michael Farzam, told 911 operators that West's condition was brought on by sleep deprivation and dehydration, but some have speculated that grief over his mother's death nearly a decade ago, coupled with the traumatic aftermath of his wife being recently robbed, may have also played a role.
Following his hospitalization, West laid low for about a week before making an appearance at a furniture exhibit at the Museum of Contemporary Art Pacific Design Center sporting a new, blonde hairdo, according to USA Today. He arrived in New York on Monday, TMZ reported, and his primary mission is reportedly to acquire a new psychiatrist for care when he's on the East Coast. The website's sources also said that Christmas shopping was on West's to-do list, so perhaps the meeting with Trump really was just a whim. However, Trump does still have some Cabinet positions up for grabs, so don't rule anything out just yet.