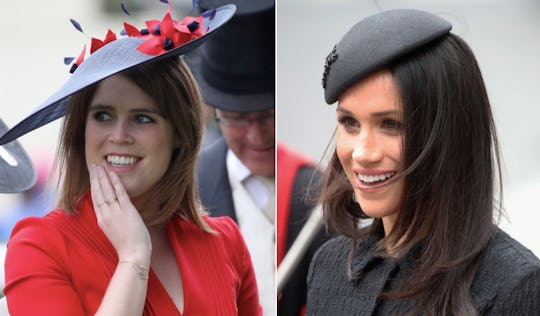 Chris Jackson/Getty Images Entertainment/Getty Images/Chris Jackson/Getty Images Entertainment/Getty Images
Here's How Meghan Markle Likely RSVP'd To Princess Eugenie's Wedding, In Case You're Taking Bets
Princess Eugenie's wedding to Jack Brooksbank is just a few days away, and royal groupies have ton of questions about the occasion. Most notably, perhaps, people might be wondering if Meghan Markle is going to Princess Eugenie's wedding. Roughly 800 guests are expected to witness the blessed event at St. George's Cathedral on Friday, Oct. 12, according to Express, and the Duchess of Sussex, along with her royal husband Prince Harry, are expected to be among them.
After the wedding, according to Harper's Bazaar, Markle and Prince Harry will attend the Friday afternoon festivities. However, the royal couple's attendance at the Saturday evening festivities, scheduled to take place at Princess Eugenie's family home, are still in question, as Harper's Bazaar reported.
But don't take their lack of attendance as a snub of some sort. This is because Prince Harry and Markle are scheduled to depart on their highly anticipated 16-day tour of Australia, New Zealand, Tonga, and Fiji, according to Express.
Regardless of the couple's Saturday plans, it's important to remember that Princess Eugenie and Markle are reportedly close, according to ELLE. For instance, Princess Eugenie and Brooksbank just brought a home right next door to Markle and Prince Harry, according to People. And you really have to like someone to move that close. The two couples both live on the Kensington Palace grounds, with Markle and Prince Harry at Nottingham College and Princess Eugenie and Brooksbank at Ivy Cottage, as People reported.
They also vacation together. According to Express, few years back, before Prince Harry and Markle were married, Princess Eugenie and her then boyfriend flew to Toronto where Markle was shooting Suits, so they could sightsee together. "They have all become great friends. Eugenie loves Meghan to bits and believes she is perfect for Harry," a source told Express. "They all had a great time and Harry was delighted Eugenie and Jack could join them."
Princess Eugenie famously attended Prince Harry and Markle's wedding in an extravagant, perfectly British hat. So, it would only be fair if Markle attended Princess Eugenie's wedding in return and perhaps dons a hat of similar notoriety.
So, what will Markle wear to Princess Eugenie's wedding? Ladbrokes, the British based gambling and betting company, is willing to place a bet. Current odds predict that Markle will wear something from her wedding dress designer, Givenchy, as a nod to her recent nuptials, according to People.
You'll be able to see for yourself when the wedding is televised, live, on TLC starting at 4:25 a.m. EST on Friday, Oct. 12, and during an encore of the broadcast starting at 7:25 a.m. ET. The full ceremony will also be available on the TLC Go app. Check your local listing for channels. It will be worth it, even if you just catch pageboy Prince George and flower girl Princess Charlotte. The two also held the same jobs at Markle and Prince Harry's wedding.
No cable? No worries. Prince Eugenie's father, Prince Andrew the Duke of York, will be live streaming the event on his Facebook page. Phew.
In short, Markle is sure to make a grand and royal appearance at Princess Eugenie's wedding, after all they're family and nothing is more important — even for royals.