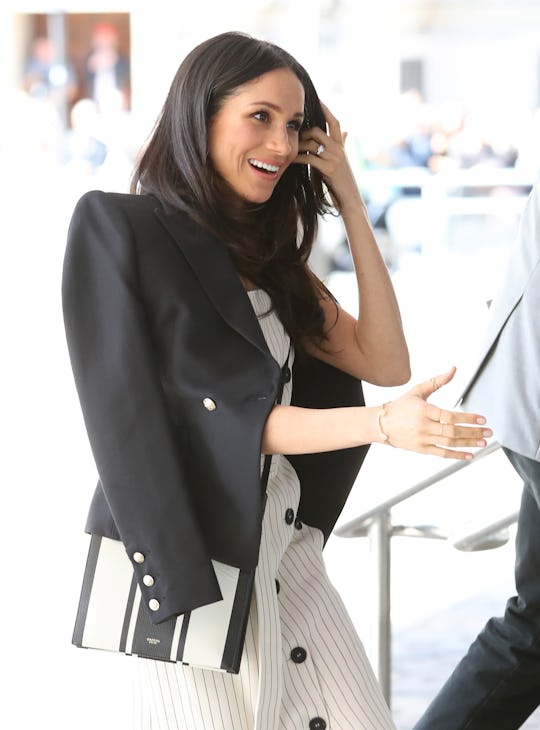 Chris Jackson/Getty Images Entertainment/Getty Images
Royal Bride-To-Be Meghan Markle Will Likely Follow This Tradition At Her & Prince Harry's Wedding
This week has been all about the royal baby — but don't let the new little prince detract from this spring's other big royal happening. In less than a month, Meghan Markle and Prince Harry will walk down the aisle at their royal wedding on May 19. There's been a ton of chatter about the big day, but fans of the actress-turned-royal might be wondering: Will Meghan Markle wear a white wedding dress or will she opt for something less traditional on her big day?
There had been talk in recent months that Markle would not be wearing white, or rather bright white. For example, ELLE reported that it seems like Markle would not wear white on her wedding day — cue gasps! — but if you read further, the article clarifies that Markle will likely wear a shade of "off-white." For example, as ELLE noted, she could wear a share of "ivory" or "oyster." Hmm... Am I the only one who feels like Andy Sachs staring at two blue belts when trying to distinguish the difference between white and ivory?
When most people hear that a bride isn't wearing a white dress, the mind wanders to visions of a bride in a brightly-colored gown. A bride who wears an off-white dress on her wedding day is still wearing what's colloquially known as a white wedding dress, in my opinion.
It's very likely that Markle will wear some shade of white on her wedding day, considering the history of white dresses in the royal family. Her future sister-in-law Kate Middleton's white bridal gown instantly became iconic — and according to ELLE, her dress was technically a mixture of various shades of off-white. (It still just looks white to me...) Princess Diana, Camilla, Queen Elizabeth II, and other living royals all wore white (or shades of off-white) to their weddings. And, most importantly of all, the tradition of a bride wearing white actually started in the royal family.
Queen Victoria, the great-great-grandmother of Queen Elizabeth II, ruled the United Kingdom from 1837 until her death in 1901. The late monarch is widely regarded as starting the "white wedding" tradition, as TIME noted. At her 1840 wedding to Prince Albert, Queen Victoria went against the status quo and wore a fluffy white gown, according to TIME.
Back before the Victorian era, many brides wore bright, rich colors, for their nuptials. Within a few years of Queen Victoria's wedding day, white wedding gowns became the most popular choice for brides, according to TIME. At the time, a magazine even wrote that white was "the most fitting hue" for a bride, and that it was "an emblem of the purity and innocence of girlhood, and the unsullied heart she now yields to the chosen one," as noted by TIME.
It's clear that Queen Victoria's bold choice had lastings effects, and it would be shocking if Markle did not wear some shade of white at her wedding to Prince Harry. After all, Queen Victoria is Prince Harry's great-great-great-great grandmother, so wearing a white gown would be a pretty classic way to honor his family. Not to mention, Markle seems to be a fan of honoring late members of her fiancé's family — namely, Prince Harry's late mother, Princess Diana. Her ring, which Prince Harry designed himself, features two diamonds that once belonged to Princess Diana, as well as another sourced from Botswana, where the couple once vacationed.
All that being said, plenty of people have theories as to what Markle's dress will look like. For example, Brides reached out to a variety of wedding dress designers, and had them all sketch their predictions of what Markle will wear on her big day. Each drawing is pretty different from the others, with some opting for pretty classic, conservative looks, while others went for more out-of-the-box styles. Plus, back in December, TMZ reported that Israeli designer Inbal Dror was creating Markle's wedding gown, and the outlet even published photos of the sketches Dror allegedly created for Markle.
No matter what Markle chooses to wear on her wedding day, there's no doubt that she will look incredible. You'll just have to wait until May 19 to see what landed on.
Check out Romper's new video series, Bearing The Motherload, where disagreeing parents from different sides of an issue sit down with a mediator and talk about how to support (and not judge) each other's parenting perspectives. New episodes air Mondays on Facebook.