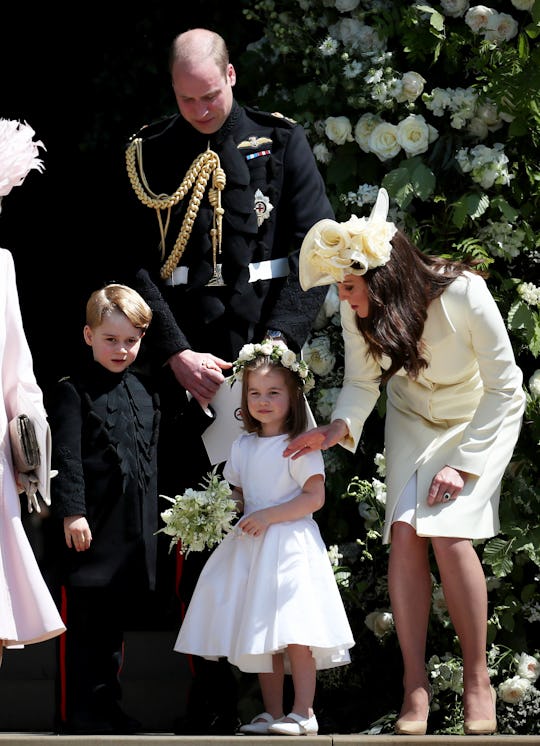 WPA Pool/Getty Images Entertainment/Getty Images
Prince Louis' Christening Is Tomorrow, But Will Prince George & Princess Charlotte Be There?
Folks, the big day is nearly upon us. And no, this isn't about a celebrity wedding or a red carpet event. No, the christening of the youngest royal baby, Prince Louis, is happening tomorrow, July 9. So, with the day literally around the corner now, it's only natural to wonder about who else will be there for the historic day. Obviously his parents, Prince William and Kate Middleton will be there, but what about his siblings? Will Prince George and Princess Charlotte be at Prince Louis' christening? Or will they stay at home with their nanny during the ceremony?
Good news, royal fans: the youngsters are definitely expected to make an appearance, as Sunday Express reported, which means the event will be filled to the brim with cuteness. Like other royal christenings before Prince Louis' big day, it will be a small, private event, and only family and close friends will be in attendance.
The ceremony, which will take place on Monday, July 9, at St. James' Palace, according to Harper's Bazaar, will also mark the first time that little Prince Louis will be out in public since he was born. The young prince, who was born on April 23, hasn't been seen since then, and fans are eagerly awaiting the day of his christening to be able to catch another glimpse of the sweet baby.
And because of the private nature of the event, the guest list for Prince Louis' christening is bit murky right now. But considering the fact that Prince George attended his sister's christening in 2015, it would be downright surprising if he (and Princess Charlotte) didn't score an invite to Prince Louis' special day.
In fact, as numerous publications have reported, Prince Louis' older siblings are both expected to be at the christening on Monday, so don't worry about missing out on royally cute moments. What's more, as Hello! Magazine reported, this will actually be the first time that the entire family will step out together since they became an official family of five. Prince Louis hasn't been at any other royal events with his family, though his parents and siblings have been out and about in the past few months.
So, not only will royal spectators get the pleasure of seeing Prince William, Kate Middleton, and adorable Prince Louis out together on Monday, but the adorable older siblings are also expected be there to make a splash. Of course, fans shouldn't be surprised if 3-year-old Princess Charlotte waves at the cameras or unintentionally steals the show from her younger brother. The royal kiddo is known for her sass, after all, and her appearance at royal events truly brightens the day.
Prince George, for his part, is sure to be entertaining as well, and he might even break into song for the cameras. Unless Princess Charlotte or one of his cousins puts a stop to it...
Though all eyes will undeniably be drawn to whatever adorable antics Prince George and Princess Charlotte get themselves into, this day is all about Prince Louis. Of course, aside from seeing Prince Louis again for the first time since his birth, the world will also get to find out who Prince William and Middleton have chosen to be his godparents. And this isn't your average christening; both Prince George and Princess Charlotte each have several godparents. According to the official royal family website, Prince George was granted seven godparents and Princess Charlotte has five godparents for their daughter. So be prepared to jot down a lengthy list when Prince Louis' list is ultimately revealed.
With all that said, it's hard to imagine that Prince Louis' christening will be anything but a lovely occasion full of adorable moments of the family of five.