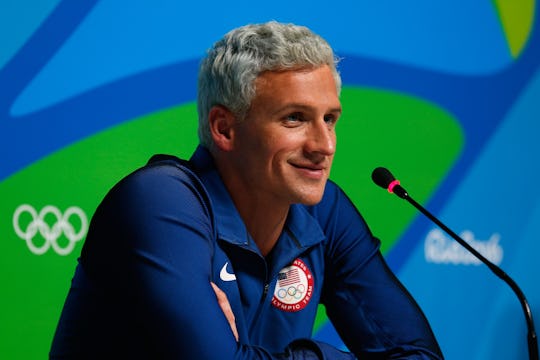 Matt Hazlett/Getty Images Sport/Getty Images
Will Ryan Lochte Swim In The Tokyo Olympics? His Future In The Sport Is Still Unclear
As swimmer Ryan Lochte's story about being robbed at gunpoint at a gas station in Rio earlier this month began to unravel (resulting in a scandal that has now been dubbed Lochtegate), two of the biggest questions on everyone's minds were will he lose his sponsorships? and will his career be over? The answer to the first came about a week later, when Speedo, Ralph Lauren, Syneron Candela, and Airweave all announced they would be severing ties with the athlete. But the answer to the second question is still up in the air. Will Ryan Lochte swim in the Tokyo Olympics? Depending on the decisions of various organizations involved in his swimming career, he might not have the option to participate, even if he wants to.
According to USA Today, Lochte's professional fate lies predominantly in the hands of USA Swimming (the national governing body for the sport) and the U.S. Olympic Committee. Sports columnist Christine Brennan said she expects that a suspension from both organizations is "certain" for Lochte — as well as for the three other teammates involved in the scandal — and doesn't particularly anticipate the suspension to be lifted at any point:
How long will they be banned? I don't know why Lochte would ever be allowed back into the sport ... As a four-time Olympian, he knows as well as anyone the responsibilities of representing his nation – which are not the same as the responsibilities of, say, representing your college or your local pro team. It might sound quaint and decidedly old school, but the USOC and USA Swimming take the notion of athletes properly representing their country very seriously.
But it doesn't exactly look like that decision will be coming anytime soon. According to Reuters, a recent CNN report claiming that the two organizations would be suspending Lochte was shot down by the U.S. Olympic Committee. When reached for comment, USOC spokesperson Mark Jones said the report was "absolutely not true," and in a separate statement, USA Swimming CEO Chuck Wielgus said, "USA Swimming will undergo a thorough review of the incident and determine any further actions, per our Code of Conduct," according to Swimming World magazine.
Although the official decisions are yet to be determined, one person who certainly has an opinion about how he hopes they will play out is Lochte himself. According to TIME, Lochte spoke to a TMZ reporter in Los Angeles last week, and said he'd rather be prosecuted than banned from swimming, if it came down to one or the other:
I think if the USOC says I can't swim anymore, I think that would be the most hurtful just because I put so much time and effort into this sport. That would be heartbreaking.
Lochte also said that losing his Speedo sponsorship "stinks," and said, "they were like a second family," to him throughout his career.
That's not exactly surprising, given that not only has Lochte previously discussed his desire to compete in Tokyo, and how much he hoped that teammate Michael Phelps would join him (Phelps has said that Rio would be his final Olympics). In an interview with TODAY on Aug. 12, Lochte said he felt confident the two would compete again in 2020:
You know what, I can definitely say that, because I guarantee he will be there. I think so. I really think so, so Michael I'll see you in Tokyo.
Of course, it's now entirely possible that neither Lochte nor Phelps will compete in Tokyo, thanks to Lochtegate. According to E! News, Phelps was spotted by paparazzi outside a Scottsdale, Arizona, Starbucks on Aug. 19. When asked whether he thought it was possible Lochte could survive the scandal, Phelps said, "we have good people taking care of it, so hopefully."
According to People, Phelps said Monday that he has since reached out to Lochte, and that he understands what he's going through (Phelps himself has had two DUI arrests, that led him to a rehab stint and a six-month suspension from swimming). Phelps said,
Ryan and I have been teammates forever and it's always hard to see a friend and a competitor going through a hard time like this — I know what it feels like. I've been through it before. Hopefully he can come out of this a better person. I've reached out to him a couple times and I think he understands a lot. He will be able to grow from this.
But not everyone has been as forgiving towards Lochte as Phelps appears to be. In the fallout from the scandal, many have criticized Lochte's too-little-too-late apologies, as well as for the lack of consequences that he seems to be facing.
For now, Lochte's future in Tokyo in 2020 is uncertain — at least until decisions are made about suspensions. But it seems to be safe to say that, whatever the outcome, Lochtegate has done significant damage to his career, and that if he does swim again in the next Olympics, there will likely be a lot of people who won't be happy about it.