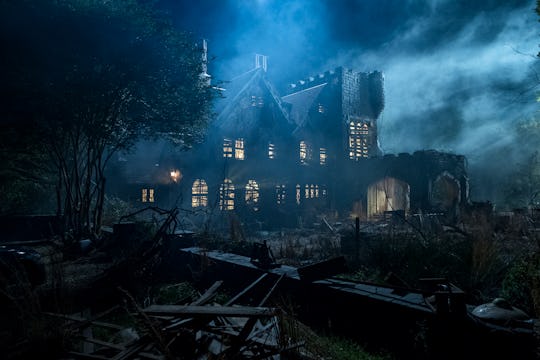 A Season 2 Of 'Haunting Of Hill House' Probably Won't Have All The Answers
People can't stop talking about The Haunting of Hill House. The spooky Netflix series is still on the minds of horror fans even after Halloween has passed. And they're clamoring for more. Though it was billed as a miniseries, there's always the possibility that could change. If there is one, will Season 2 of The Haunting of Hill House be an origin story? There are some who believe yes, and others who disagree.
First, though, there has to actually be a second season. It's not outside the realm of possibility — after all, other one-off miniseries like Big Little Lies have done it before. And creator Michael Flanagan has confirmed that he's "definitely thought about" continuing the series, but there are a lot of moving parts to consider. However, Flanagan isn't ready to discuss a theoretical Season 2 just yet.
"I don't want to speculate too much about Season 2 until Netflix and Paramount and [production company] Amblin let us know if they want one," he told EW. Flanagan explained that when it comes to Steven Crain and his family, the story is complete. So an origin story that involves them definitely doesn't sound like it's in the cards.
It's hard to see how the audience would benefit from a Crain origin story anyway. The first season features a lot of flashbacks, and with episodes that dig into each sibling's backstory extensively, there isn't much else that we need to learn about the Crains. As Flanagan said, their story had a complete arc with a conclusive ending. It's time to go elsewhere, should the series be picked up for another season.
But what about an origin story that focuses on how the house came to be? Reddit user ReachTheSky says that this isn't in line with Flanagan's M.O. The creator is a fan of what's known as Lovecraftian horror, which is all about tapping into the fear of the unknown. ReachTheSky writes that they doubt Flanagan will "shatter that image" by explaining what the incomprehensible "alien force" is that haunts the house. The fear of the unknown has to stay in place.
There are those who disagree with this. Flanagan told The Hollywood Reporter that they "fleshed out a thorough history of Hill House," and each episode would have had a little bit of the origin story sprinkled in, opening up as though it were a chapter from Steven's book. It would be easy enough to tap into that unused material for Season 2.
If a subsequent season isn't about the Crains and it isn't about how Hill House became haunted, what will it be? They could always dig into one of the stories of the ghosts who were present in the foyer in the final episode of Season 1. Or, they could take it another direction entirely. As Flanagan told EW, "more than anything, the show is about haunted places and haunted people ... and there's no shortage of either. So, there's any number of things we could do, in or out of Hill House." The possibilities really are endless.