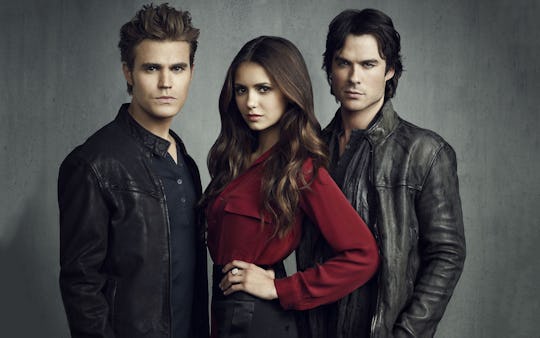 The CW
Will 'The Vampire Diaries' Season 8 Be Its Last? Fans Will Say Goodbye To Mystic Falls
It's been eight years of love triangles, vampires, witches, werewolves, and everything in between, but now it's time to say goodbye. Season 8 of The Vampire Diaries will be it's last and fans are already preparing their farewells. When the show first began, it was all about Elena Gilbert, a girl who's parents died in a terrible car crash, which led to her being raised by her Aunt Jenna. Elena fell in love with Stefan, a vampire, but also had feelings for his brother, Damon. (And so the TVD love triangle was born.) On top of that, Elena was also a doppelgänger of Katherine Pierce — Stefan and Damon's first great love back from their human days. From there, the show only got more twisted and complicated and Nina Dobrev, who played Elena, has since left the show.
Although saying goodbye to Elena after Season 6 was difficult, saying goodbye to the show itself will be even harder. Fans have fallen in love with all the characters, both those that were there from the beginning like Bonnie, Caroline, and the Salvatore brothers, and those that came later, like Enzo. They have watched these characters go to hell and back (literally) for each other and the characters of this show, as well as the cast, have become like a family for fans.
As the show begins it's march to the very end, fans have one major wish for the series finale: to see Elena one more time. Elena has appeared on the show a few times after Dobrev's departure but that was only in the form of flashbacks, which let's be honest, don't really count. Fans are hoping Dobrev will return for the series finale and give some closure to Elena and Damon's love story. But as the end of The Vampire Diaries draws closer and closer, fans worry it just won't happen.
Julie Plec, the executive producer and creator of The Vampire Diaries, recently told Digital Spy that she definitely wants Dobrev to reprise her role, but she also has another ending in mind just in case Dobrev doesn't return. "[Dobrev's] said she would [come back] and I want her to," Plec said. "So honestly it becomes a matter of logistics and if we become victim to logistics, then that would be devastating. I'm hoping that's not even going to be an issue."
For now, though, it looks like an Elena return is still up in the air but hopefully, for the sake of all the fans out there, Dobrev and Plec can make it happen. Keep your fingers crossed!