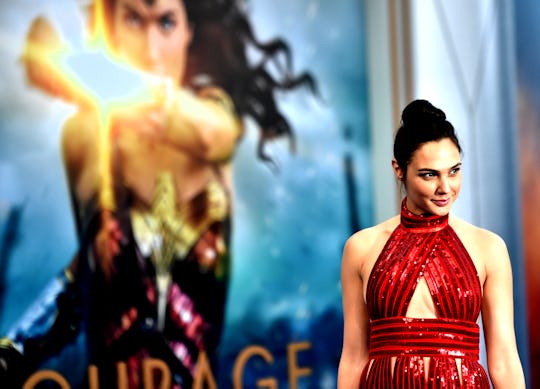 Frazer Harrison/Getty Images Entertainment/Getty Images
Will There Be A 'Wonder Woman' Sequel?
The release of Wonder Woman on June 2 was very recent, but it's no surprise that fans already have an eye towards the future. The movie was long-awaited for a number of reasons: there had never been a Wonder Woman live action feature film despite her incredible popularity, and many superhero fans have been thirsting for a movie led by a woman hero. In the current superhero landscape, so many of the films are still led by men that Wonder Woman's existence was a breath of fresh air regardless of quality. But the early reviews are good, so it goes without saying that fans are definitely going to want more. But will there be a Wonder Woman sequel?
A sequel has not yet been officially confirmed (let's wait to see it smash the box office first) but it seems very likely. DC has been churning out movies to rival Marvel whether they're good or not, but Wonder Woman might be their first critical success. They're going to want to hold onto that. Man of Steel earned itself a sequel with much less excitement and positive reviews, so it would be kind of silly if Diana Prince didn't get the same treatment. Fans can't wait to see where her story goes next and the studio would do well to take advantage of that interest.
Many people involved in the film have hinted at a sequel, even if there hasn't been confirmation from the studio yet. Director Patty Jenkins certainly seemed on board with continuing Diana's story in the future when she spoke with Fandango, saying, "It's definitely something I'm very, very, very interested in. I love what we've created and I love the team that I worked with doing it and these actors so much that, yeah, we're all very excited to talk about continuing forward together."
Executive producer Charles Roven was similarly hopeful about the possibility of sequel with the same team, but he told JoBlo that there wasn't another one in the works yet – which makes sense considering the first is only just being released. But there have been reports about a sequel from less official channels, too. After attending Wonder Woman's Shanghai premiere, Twitter user Arthur Wong announced that Zack Snyder said there would be a second film, though one shouldn't necessarily take Twitter reports as the absolute truth.
But even if the future of the franchise is technically in question, it seems like a foregone conclusion that fans will be seeing more of Diana Prince on the big screen.