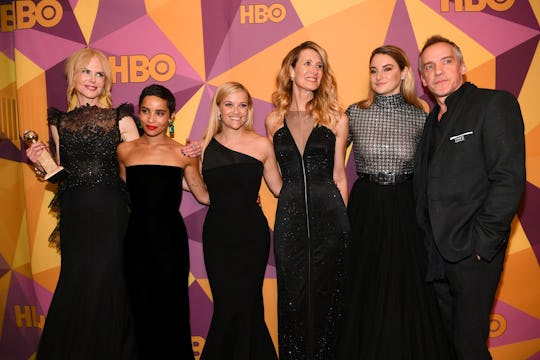 Emma McIntyre/Getty Images Entertainment/Getty Images
Here's How Time's Up Supporters Plan To Make A Statement At The Grammys
At the Golden Globes earlier this month, many attendees wore all-black outfits in support of the Time's Up movement. The outfit choice, also known as #WhyWeWearBlack, aimed to make a statement that sexual harassment in the workplace — namely, in Hollywood — would not be tolerated. And with the Grammys just around the corner on Sunday, Jan. 28, many are wondering: Will women wear black to the Grammys? Instead of using their entire outfit to support Time's Up, it looks like Grammy attendees will show their support in a slightly more subtle way.
Many prominent Grammy Awards attendees will pin a white rose to their outfits to endorse the Time's Up movement, according to Billboard. Meg Harkins, senior VP of Roc Nation, and Karen Rait, who works in music promotion at IGA Records, are the masterminds behind the demonstration, which they're calling Voices in Entertainment. The group sent a letter to recording artists this week encouraging them to wear white roses at the Grammys, according to People. "We choose the white rose because historically it stands for hope, peace, sympathy and resistance," they explained in the letter. Additionally, white is a a color with a long and important history regarding women's rights. Suffragettes wore white as they protested for women's right to vote, and Hillary Clinton symbolically wore white at one of the presidential debates and at Trump's inauguration, Harkins explained to Billboard.
Harkins and Rait wanted to be as respectful of the Time's Up movement as much as possible, so they contacted it's organizers. Rait told Billboard:
It's very important that we stay on their message ... The amount of work they have been able to do in just three short weeks is inspiring. Music artists have a lot of impact.... So it's only fitting that that music's biggest night show the support for equality and safety in the workplace and that people need to be cognizant of their fellow employes.
Harkins told Billboard the Time's Up conversation is one that's not only politically important in the U.S., "but it's also a conversation we need to have internally with our artists and our companies." She said:
We need to say if anyone is feeling like they're being discriminated against and they don't feel safe in their workplace, they have people who will support them.
Voices in Entertainment has already gotten a slew of prominent musicians on board with the white rose movement. On Monday, the group (comprised of Harkins, Rait, and 12 other women from the music industry) had dinner together to discuss and solidify the plan, Billboard reported. Since then, all of the women have been reaching out to contacts in the industry; Halsey, Rapsody, Kelly Clarkson, Cyndi Lauper, Dua Lipa, Rita Ora, and Tom Morello are on board with the movement, according to Billboard.
Voices in Entertainment's letter urged its celebrity recipients, according to People:
Please join us in support of equal representation in the workplace, for leadership that reflects the diversity of our society, workplaces free of sexual harassment and a heightened awareness of accountability that our sisters started on January 1st and continued through the Golden Globes and onward.
The #TimesUp movement was born out of the #MeToo movement, which was founded 10 years ago by activist Tarana Burke. Actress Alyssa Milano popularized the movement this past fall as a response to a flood of sexual misconduct allegations against Hollywood producer Harvey Weinstein. Many survivors of abuse and harassment came forwards about Weinstein, and subsequently, about other men who have taken advantage of them. The week before the Golden Globes, an open letter signed by many prominent Hollywood women ran in the New York Times, announcing the Time's Up movement. "We also want all victims and survivors to be able to access justice and support for the wrongdoing they have endured," the letter read. "We particularly want to lift up the voices, power, and strength of women working in low-wage industries where the lack of financial stability makes them vulnerable to high rates of gender-based violence and exploitation."
It's no surprise that other awards shows are taking a piece out of the 2018 Golden Globes' book. Sexual harassment is an issue in every industry, and with a platform as large as the Golden Globes, it's only right that the music industry is doing something to help fight it.
Check out Romper's new video series, Romper's Doula Diaries:
Watch full episodes of Romper's Doula Diaries on Facebook Watch.