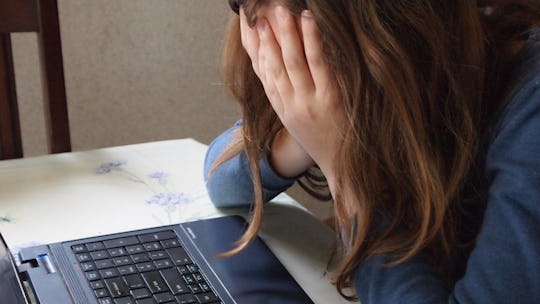 Pixabay
Wisconsin Law Now Punishes Parents If Their Kids Are Bullies, But Will It Work?
Ahead of National Bullying Prevention Month in October, the Gay, Lesbian, & Straight Education Network (GLSEN) this week released a report that said biased remarks, bullying, and harassment remain "a significant problem" in U.S. schools. According to the report — titled "From Teasing to Torment" — a whopping 74 percent of middle- and high-school students experienced what GLSEN called "peer victimization" in the past year, including sexist, racist, and homophobic remarks. Though efforts to stomp out bullying have made progress in recent years, thanks in part to public attention to the issue, it's clear more work needs to be done. One trend in bullying prevention empowers local police departments to get involved in cases of repeat offenders; the latest city to take bullying matters into its own hands is Shawano in Wisconsin, where the city council passed a law to punish parents if their kids are bullies.
Other cities in Wisconsin, including Plover and Monona, had previously implemented similar laws. Under the Shawano ordinance, which was enacted in late April and applies to school-aged children under the age of 18, parents whose children are engaged in bullying or harassment will be fined. Here's what will happen when said behavior is identified, according to the Christian Science Monitor:
The Shawano Police Department will deliver a warning to the parents, who will have 90 days to address the bullying behavior with their child.
If, after 90 days, the child in question hasn't changed their behavior, SPD will issue a fine in the amount of $366.
Repeat offenses will be fined $681.
Chief Mark Kohl of the SPD told WLUK Fox 11 the ordinance isn't aimed at "kids being kids, some playground banter." He continued:
This is the person that is meticulously using social media or saying things that are vulgar in an attempt to hurt, discredit, and really demean a person.
Though Kohl told The Huffington Post the reaction has been "99.9 percent positive," comments on the Shawano Police Department Facebook page were a mixed bag. Facebook user Lorell Rademacher wrote:
Sometimes kids will just be kids...but when the bullying continues, it becomes obvious that there is more at play than just kids stuff. Parents should be culpable for a certain amount of their children's behavior. The bullied, when they fight back, are either punished with disciplinary actions from the school and/or further taunted by the bullies. It's a lose/lose. School policies have tied the hands of our children to protect themselves yet do nothing to curb the growing problem.
Meanwhile, Neenah, Wisconsin, resident Timber Jo Fabry remarked that the law wouldn't be enough on its own:
What about the kids that are doing the bullying? I think they too should be held accountable! Community service? A weekend in juvenile detention? A fine to the parents isn't going to be enough to fix the problem.
Other critics contend the fines could harm families who are already struggling financially. In addition, clinical psychologist Dr. Steven Meyers told The Huffington Post that such ordinances haven't been carefully studied:
Although approaches such as this one may have an intuitive appeal, programs that are effective in curbing bullying are much more comprehensive and ideally are preventative.
As National Bullying Prevention Month kicks off tomorrow, it's a good time to talk to your kids about bullying. Whether they're being bullied or you suspect they might be bullying others, it's important for children to know how to respond if they're being victimized — or, if they're the perpetrator, why their conduct is wrong and how they can stop. With victims of bullying being 7 to 9 percent more likely to consider suicide, the time to get involved is now.