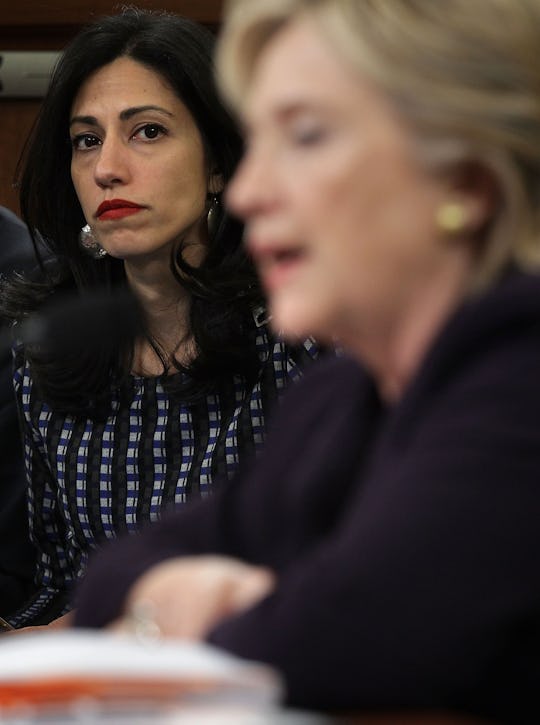 Alex Wong/Getty Images News/Getty Images
Would Huma Abedin Have A Job In Clinton's Administration? She's Worked With Her For Years
In the final days of the presidential campaign, one of Hillary Clinton's longest-serving aides is reluctantly making headlines again. Now that Election Day is less than a week away, it's fair to wonder who the presidential candidates will choose to be on their staff if and when each moves into the Oval Office. As for the Democratic party, many are looking to Huma Abedin, because even though she's remained in the background for some time, she's currently the vice chairwoman of Clinton's presidential campaign and has already worked with the candidate for years. So, would Abedin have a job in Clinton's administration?
If you consider how long Abedin has been Clinton's righthand woman, both politically and personally, it seems fairly likely that she would assume some sort of role in a potential Clinton administration. But, newly discovered messages, many of which allegedly involve Abedin's estranged husband, Anthony Weiner, have cast a dark cloud on the Clinton campaign — and really, it's anyone's guess at this point how that will all play out.
But despite any scandal looming over the Clinton campaign, if the 69-year-old Democratic nominee and former Secretary of State wins the presidency, it's a safe assumption that Abedin — or, as Politico once described her, Clinton's "shadow" — will still most likely serve a role similar to one of the past positions she's had in the 17 years they've worked together, from personal aide, traveling chief of staff, deputy chief of staff, and/or body woman.
Even though Election Day is only five days away, it appears that it's still too soon to tell precisely which role of those aforementioned would wind up the winner. One guess: Because the 41-year-old campaign chairwoman is closer to Clinton than other contenders and is certainly qualified, someone could speculate that Abedin might serve as Clinton's chief of staff, given the previous roles she's held since she met Clinton in 1996, when she got a White House internship as a student at George Washington University.
As for what those duties would include, the White House chief of staff is essentially an assistant to the president of the United States who plays an important managerial and advisory role. This person needs to be able to juggle a lot of responsibilities, but above all else they need to be loyal to the president and have confidence in the administration. If Abedin were to secure the chief of staff role, she would be doing a mix of all of the positions she's already held with Clinton, in a new setting.
There's a plethora of political positions Abedin could do for Clinton in the White House, but we probably won't know which one it would be (if any at all) until after all of the votes are counted. And despite recent controversies, since she's already been Clinton's righthand woman for this long, it doesn't seem like Abedin will be going anywhere any time soon.