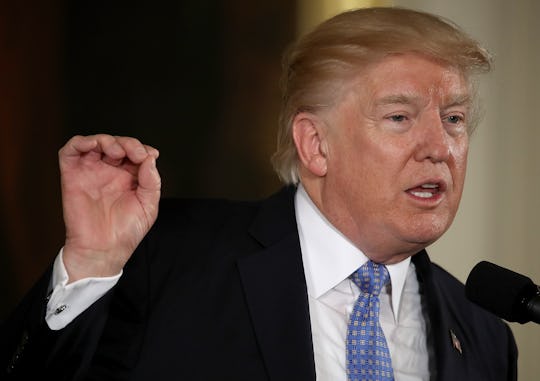 Win McNamee/Getty Images News/Getty Images
Your Insurance Premiums Could Go Up Because Of Trump, Even Without An ACA Repeal
After his own party failed to repeal and replace the Affordable Care Act in July, President Donald Trump bleated to reporters, "We'll let Obamacare fail and then the Democrats are going to come to us." The GOP has pushed a narrative that the ACA would drive up insurance premiums to unaffordable levels, but then the Congressional Budget Office repeatedly scored Republican versions of an ACA replacement with steep premium increases. Now, even without an ACA repeal, your insurance premiums could still go up because of Trump, according to the Associated Press — and here's why.
An analysis of 2018 insurance premium changes was released by the Kaiser Family Foundation on Thursday, and the forecast is grim. Of the 20 states included in its analysis, as well as Washington, D.C., 15 saw premium hikes in excess of 10 percent or more for next year. One of the most staggering insurance premium increases was for Wilmington, Delaware, where insurance premiums could skyrocket by as much as 49 percent next year, The Washington Post reported. Only one city saw a decrease in insurance premiums: Providence, Rhode Island, could see rates decrease by about 5 percent next year.
With the exception of Providence, Americans across the country will see their insurance premiums increase substantially in 2018 — and we all have Trump to thank for it.
Even though Trump has vowed to "let Obamacare fail," it's his threats to withhold cost-sharing reduction subsidy payments to insurance companies that have plunged the insurance marketplace into uncertainty. In a nutshell, cost-sharing reduction (CSR) subsidies were mandated by the Affordable Care Act to enable people with lower incomes to buy health insurance. As Vox explains, insurance companies must provide this assistance — even if the federal government doesn't chip in to cover the cost.
With mafioso maturity, Trump is threatening to extort his own party for the sake of getting a health care bill passed. If the GOP can't come up with a passable health care bill, Trump has threatened to withhold the government's August CSR payments to insurers, according to CNBC.
And with that mic-drop tweet, Trump promptly went on a 17-day vacation at his private golf club in Bedminster, New Jersey, five days later, after 197 days into office and at least 43 prior golf club visits. Because who knew health care could be so complicated, right?
What the Kaiser Family Foundation discovered is that as a result of Trump's threats to withhold August's CSR payments, insurance companies are forced to come up with two sets of rates for 2018: One set should the payments come through, and another if those payments don't. Without those government CSR payments, insurers will be forced to make up those costs, and they only way they can do it is by passing those costs onto customers by way of higher insurance premiums, The New York Times reported.
So, forget repeal and replace — and let's face it, repeal and replace is dead on arrival at this point for the Republican Party. Trump's own congressional bullying and tweet storms could send insurance premiums through the roof. The Affordable Care Act may not have been perfect, but Trump's open threats to undermine the existing system are only going to hurt millions of Americans.