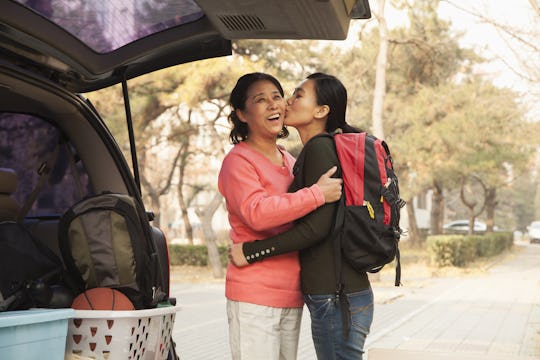 XiXinXing/Shutterstock
5 Little Touches That'll Make Your Kid's Dorm Room Feel Like Home
Send your college student off in style.
Dropping your kid off at college can feel bittersweet at best, whether they're just a short drive away or have relocated to a completely different state. It's the understatement of the parenting experience: When your teen flies the coop for the first time — and no, summer camp doesn't count — it can be harder than you ever imagined to say goodbye.
The good news? As a parent, you have the ability to set your kid up for success in so many ways. From occupying key roles like being their biggest cheerleader and most reliable listening ear, to more tangible acts like adding little touches of home to their new spot, being a parent means offering comfort in a way that makes them feel safe and supported as they take the world by storm. Whether you're stocking them up on their favorite snacks or framing a meaningful snapshot from a legendary family trip, small gestures can go a long way once you head back home and reality sets in for you both. Keep reading for the best, non-cheesy ways to help your kid settle in to their new space.
1. Give The Gift Of Privacy
Kids appreciate boundaries — why do you think teenagers just love slamming the door that separates their space from the rest of the family's? And that certainly doesn't change once freshman year rolls around. However, it can be harder to carve out their own space when they're sharing a walk-in closet-sized room with a roommate, especially if it's their first time living with someone else.
If it's an option, loft their bed to make a sweet spot for studying and hanging out underneath. If not, brainstorm other ways to divide the space, like strategically placing a slim bookcase so each person feels like they have ownership of their side. For more inspo on creating personal space in a shared dorm, check out this Idea Pin.
2. Help Them Sleep Better
Sleep care is on the rise, according to data from Pinterest, and getting proper shut-eye can help your kid stay fresh, focused, and on top of their academic game. But twin beds aren't exactly known for their comfort, and while a mattress topper can certainly go a long way, it's worth exploring other ways to set them up for sleep success. Build out a care package full of essential oils, calming teas, a luxe eye mask, or a silk pillowcase to surprise them with that first night.
If it's the sleep aesthetic they're more concerned with than their actual REM cycle, help them try out the DIY headboard trend. You can find faux-headboards that attach to the wall, or oversized, headboard-like pillows that are much comfier to lean against than your average dorm-room wall. For a truly chic — and majorly cheap — bed upgrade, check out how one creator makes her own headboard using just a couple easy-to-find supplies.
3. Lend Them A Plant
If you've already got a robust windowsill and can bear to part with a hardy plant — we see you, sansevieria (aka practically un-killable snake plant) — then transfer it to a pretty ceramic planter and let your kid try their hand at caring for it. Not only does research show that owning plants is good for mental health, it's also quite literally giving them a real-life piece of home to remind them where they came from. Bonus points if they're able to keep it alive past the holiday break.
4. Stock Up On Snacks
While the dining hall is the ultimate nourishing staple in those college years, it's not always convenient to pop in for a snack late at night or on a hurried break between back-to-back classes. Bring whatever you usually stash in the pantry at home — be it granola bars or bags of popcorn — and leave it in easy-to-access places like their backpack or desk drawer on move-in day. Sure, it might not be your signature lasagna, but it might just be the little taste of home that they're craving.
5. Curate A Bulletin Board That Feels Like Them
Whether they want to display their favorite photos or just keep their class schedule handy, a bulletin board is the perfect way to add a personal touch to any space. Plus, the possibilities are practically endless in terms of what you can hang, from sentimental souvenirs (like a ticket stub from their first concert) to a very functional emergency supply of hair ties and scrunchies. The versatility means that anything goes — including whatever they might want to bring from their room at home.
For one editor's tips on making your kid's dorm feel more like home, check out this Idea Pin.
Is your kid heading to school this fall? Whether they're in a dorm or living off-campus, creating a space they love can make all the difference. Enter Bustle x Pinterest's Storm the Dorm Sweepstakes for a chance to win one of five $1,000 gift cards — the ultimate goodbye present that they can use to make their space home.
NO PURCHASE NECESSARY. The Storm the Dorm Sweepstakes is open to residents of the 50 United States and D.C., age 18 or older. Void outside the United States, in Puerto Rico, and wherever else prohibited by law. Sweepstakes begins at 11:00:01 AM ET on 08/31/21 and ends at 11:59:59 PM ET on 09/30/21. Click here for the Official Rules: https://bit.ly/stormthedormrules. Sponsor: BDG Media, Inc., 315 Park Avenue South, 12th Floor, New York, New York 10010.