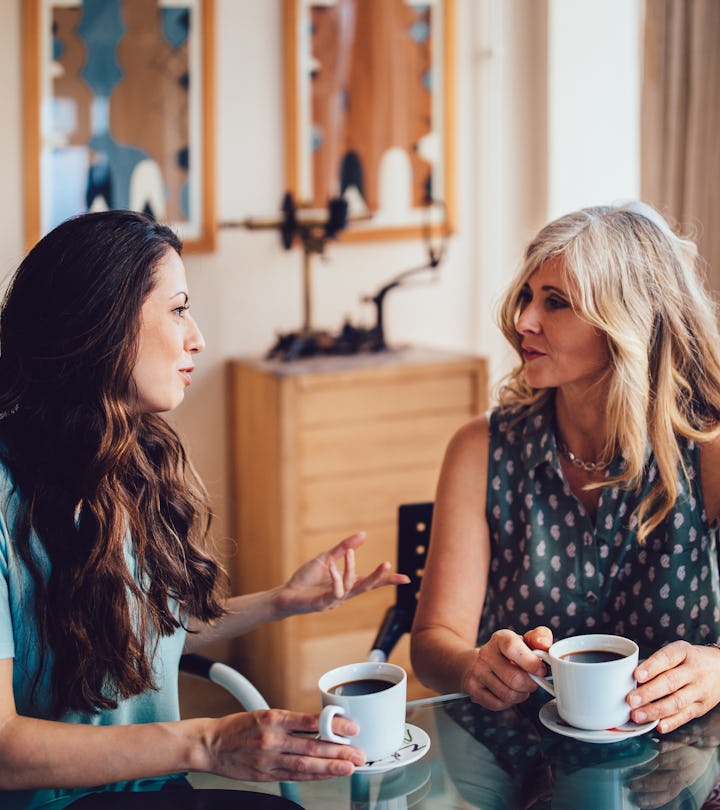 Courtesy of Fertility Out Loud
These Women Prove That Every Fertility Journey Is Unique
There is no single pathway to growing a family, and that's OK.
By the time you turn 30, your social media feed becomes full of babies. And while it's typically not hard to ooh and aww over someone's little bundle of joy, for those struggling with fertility, it can be an emotionally complicated experience. One in eight couples in the United States have trouble getting or staying pregnant. Yet when you're the one trying to conceive (TTC), it's easy to feel like you're totally alone.
That's why we've partnered with Fertility Out Loud — a program created to provide tools, resources, and guidance that can help those on the fertility journey take action. Below, four women share their unique fertility journeys that prove there's no single way to start or grow a family, there are many treatment options available, and there are amazing resources that can help.
Read from these real-life stories below, and then visit Fertility Out Loud for authentic connections, trusted information, and reliable resources to help you take action and find a reproductive endocrinologist (fertility specialist) in your area.
1. " I Felt Like Something Was Missing In My Life"
After experiencing two pregnancy losses at the age of 27, Jennifer's OB-GYN recommended she see a fertility specialist (reproductive endocrinologist). She'd always known she wanted kids, so running into one unexpected obstacle after another felt discouraging.
"I'm a teacher, so during those summer months, I really longed for the pitter-patter of children running barefoot through my halls," says Jennifer. "I felt like I was missing something in my life."
Her fertility specialist did blood work, tested her husband's sperm count, and suggested intrauterine insemination (IUI) — a type of artificial insemination in which concentrated sperm is injected, or guided, into the uterus through the cervix. After six months of juggling doctors appointments with work (and about one month after beginning the IUI process), Jennifer and her husband discovered they had gotten pregnant on their own. Fortunately, they had a fertility specialist guiding them this time, performing regular blood count monitoring and ultrasounds before eight weeks. Jennifer was also put on baby aspirin and half-jokingly attributes that to why her third pregnancy stuck.
Now a mother of two, Jennifer wants others to know that fertility struggles are normal. "Don't hide what is happening to you, and take time to grieve," she says. "It's OK to feel frustrated and sad, but it is not your fault. Don't give up, because you will find your way."
2. "I Was Diagnosed With Unexplained Infertility"
When Jillian and her husband started TTC in the summer of 2017, they had no idea that there was a two-year journey ahead of them. She began doing research and admittedly trying "literally anything" to increase her chances of getting pregnant. That included tracking her cycle using ovulation strips, taking her temperature every morning and plotting it on a graph, testing her blood sugar multiple times a day for weeks, visiting a chiropractor, trying yoga, cleaning up her diet, and even giving up coffee.
But none of it helped — and Jillian started feeling more and more hopeless. She also felt triggered by every baby announcement and photo she saw on her social media feed, feeling like she was the only person in the world who couldn't conceive.
"On a day when I was feeling extra crappy about our struggles, I found a blog post from a friend from college about her experience with infertility, and in her post she said something like, 'I wish I had just gone to a fertility specialist sooner.' She even recommended one nearby," Jillian says. "I just picked up the phone and called them for an appointment before I talked myself out of it."
After her initial appointment with a fertility specialist, it took months of blood work, special ultrasounds, and genetic testing to get a diagnosis: unexplained infertility. It was reassuring to know that everything was normal but also frustrating to still be without answers. After two failed IUIs, Jillian and her husband ultimately moved on to in vitro fertilization (IVF). Fortunately, IVF was successful after their first transfer, and Jillian is now the mother of a healthy, happy baby boy.
"After I shared our journey to get pregnant on social media, so many people reached out to me to tell me that they also struggled with fertility — and ironically, some of those people had set me off with their pregnancy announcement before," says Jillian. "It would have been so helpful to know [others were struggling] before! I think it's important to talk about it so that others facing fertility challenges know they aren't alone."
3. Egg Freezing Created "The Option To Have Kids In The Future"
Theodora started thinking about freezing her eggs as a single woman in her early 30s after reading a book on the topic. She got encouragement from her mom to move forward, but not long after that, her mother was diagnosed with cancer, which put the process on hold. Her mother eventually passed in 2017, and the loss was overwhelming: After dealing with severe depression and PMDD (premenstrual dysphoric disorder), Theodora decided to table any procedure that would involve injecting herself with hormones that might affect her mental health.
The idea of future motherhood never completely went away, though, and when the pandemic hit, Theodora started to see more and more friends freeze their eggs on social media. A few months later, she attended a virtual baby shower, which she had previously avoided — seeing moms-to-be with their moms made her feel wistful for her own mother. But since this party was virtual, she thought it might be different.
It wasn't — but not for the expected reason.
"It finally connected — this [baby shower] was triggering, because it's something I wanted or potentially wanted," says Theodora. "If I didn't want kids, it wouldn't have triggered me like that."
And so at the age of 37, she began the process of egg freezing and chose a sperm donor in order to freeze embryos. Although it sometimes felt lonely going to doctors appointments and seeing mostly couples, the only thing Theodora regrets is not going through the process sooner.
"Afterwards, I felt so empowered and felt really proud of myself for doing it," she says. "I didn't realize what a psychological weight was on my shoulders, but now I feel confident knowing I took a step to give myself the option to have kids in the future."
4. "I Never Realized That Starting A Family Is Not A Straight Road"
After having a lot of fun in their 20s and early 30s, Sarah and her husband decided they were ready to grow their family. But after 12 months of TTC, they knew they needed to take the next step and start looking into fertility treatments.
"I went to a fertility clinic my friend had also gone to, simply because I didn't know where else to start, and my OB-GYN wasn't being helpful," says Sarah. "There was about one month worth of testing to ensure there wasn't a specific issue and everything was 'working normally,' but as each test came back normal, it almost made me feel worse. I wanted there to be a specific problem we could point to and then fix."
That "problem" never presented itself, but after four months of tests and three IUI treatments, Sarah was pregnant.
"We all want to think that getting pregnant happens easily, quickly, and without much thought, but that is very much not true," she says. "There is no right way to have a baby and no straight line to get there. In the end, we got the perfect baby for us."
These stories reflect individual experiences with infertility and should not be taken as medical advice. Consult with your health care provider with any specific questions.
If you're looking for where to start your fertility journey, find a fertility specialist in your area and explore Fertility Out Loud for credible information and resources.
US-RMMH-2100146