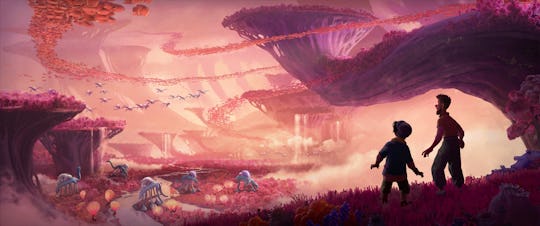 4 Reasons Strange World Will Be The Sleeper Streaming Hit Of The Year
Disney's latest animated movie is now available on Disney+.
The latest Disney animated movie didn't set the world on fire during its theatrical run, but it's primed to be a streaming smash. Families in search of new movies to watch together have at least four reasons to give the star-studded, classic adventure story that is Strange World a chance now that it's streaming on Disney+. Here they are.
It's a story about a family.
The best movies to watch as a family are movies about, well, families. The Clades start off in a bad place — estranged for 25 years after a difference of opinion on a mountain expedition — but new adventures bring them back together in a way that kids and parents will enjoy. Ethan, the youngest of the Clade men, also happens to be Walt Disney Animation Studios' first openly LGBTQ main character. The story of the Clade family is one of persistence and acceptance; in other words, two values every family should have.
The animation rocks.
Simply put, this movie looks cool. The faraway world the Clades travel to was inspired by pulp magazines, King Kong, and the novels of Jules Verne. There's no shortage of technicolor vistas, glowing caves, and steampunk-inspired ships. Kids will be transfixed, eyes locked on the screen, mouths agape, as the story unfolds in front of them. Adults will be relieved to watch something with real visual appeal — something lots of kids' programming seems to lack these days.
The people who made it know what they're doing.
The directors, writer, and producer have Big Hero 6, Raya and the Last Dragon, and Tangled credits between them. The cast is a mix of big names (Jake Gyllenhaal, Dennis Quaid, Gabrielle Union, Lucy Liu) and reliable comic actors (Alan Tudyk, Jaboukie Young-White). By our count, that's the creative juice behind some of your kid's favorite flicks and plenty of proven performers to help bring their vision to life.
It's on the best streaming service for families.
The streaming home of every Pixar, Star Wars, Marvel, and National Geographic title is the obvious first place to look when you're trying to find something to watch as a family. And while you could just watch Frozen for the umpteenth time, we're betting plenty of families stumble upon Strange World and find a movie that makes regular appearances on family movie nights.
Want more Disney? Sign up for Disney+ now so you don't miss a moment — or sign up for the Disney+, Hulu, and ESPN+ bundle for $12.99/month with ads, or $19.99/month without ads.