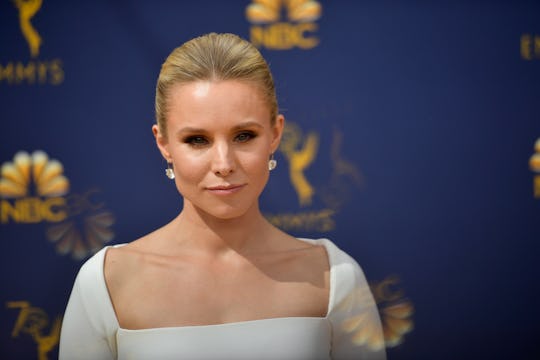 Matt Winkelmeyer/Getty Images Entertainment/Getty Images
5 Celebrity Parents Who Smoke Weed — Because Kristen Bell Definitely Isn't Alone
Fans of Kristen Bell were likely surprised to discover that the mom of two occasionally smokes marijuana. (Or maybe they weren't.) Still, for the first time publicly, The Good Place actress recently opened up about her recreational drug of choice — which she apparently smokes at home, in front of her recovering addict husband. Although people definitely have opinions about parents who smoke pot, in reality, it's not all that uncommon. With this in mind, here are 5 celebrity parents who smoke weed. Because Kristen Bell definitely isn't alone.
During a recent interview with Marc Maron on his podcast WTF, Bell revealed that she sometimes smokes while at home — even though her husband, Dax Shepard has been sober for 14 years. "I like my vape pen quite a bit. I smoke around my husband and it doesn't seem to bother him," Bell told Maron, according to People. "Weed rules. Weed is my drug of choice, for sure." After the podcast host asked her how she determines when/how often she smokes, Bell replied, "Like once a week if I'm exhausted and we're about to sit down and watch 60 minutes, why not?"
Although plenty of people had opinions about Bell smoking around her former-addict husband — as well as the fact that she smokes as a mother of young children — Shepard took to Twitter to defend his wife, ET Online reported. "That would be like a diabetic expecting their partner to never eat dessert. Get real!" he tweeted.
With Bell's recent revelation in mind — as well as the backlash that followed — let's take a look at five other celebrity parents who smoke weed, shall we? Like ...
1. Megan Fox
Back in 2009, Fox told British GQ that America's war on drugs is "all propaganda." "I can't tell you how much bullsh*t I've been through because I will openly say that I smoke weed," she told the publication at the time. "People look at it like it's this crazy, hippie, f*cked-up thing to do. And it's not! I hope they legalize it, and when they do, I'll be the first f*cking person in line to buy my pack of joints." Although it's unclear if Fox has continued to smoke since becoming a mom to three sons, her general stance on marijuana is crystal clear.
2. Susan Sarandon
Susan Sarandon — a mother of three and now a grandmother — hasn't made it a point to hide her feelings about smoking weed. In 2014, she opened up to The Daily Beast about her approach to smoking. "My attitude about marijuana or anything is, 'Don't be stoned if you have to pretend you're not,' so I'd never do drugs if I was taking care of my kids. I like doing it in the Grand Canyon, or in the woods. You want to be prepared and not have responsibilities. It does remind you of your space in the universe — your place in the universe — and reframe things for you. I think you can have some very profound experiences."
3. Martha Stewart
Martha Stewart, the queen of DIY and mom of one, really can do it all — because apparently, she even knows how to roll a proper joint. In an interview with Andy Cohen during "Watch What Happens Live," Cohen directly asked Steward if she possessed this particular skill set. "Of course I know how to roll a joint," she responded, with a laugh. And there you have it!
4. Snoop Dogg
Of course, we can't forget the weed-loving fathers out there. Rapper Snoop Dogg, a father of four, is notorious for his generous usage of marijuana. In 2012, his then 18-year-old son Corde shared a photo via Twitter showing a father-son bonding moment — featuring a 2-foot glass bong, according to The Hollywood Reporter. "My kids can do whatever the hell they want," Snoop told the publication, following that post. "For me to say otherwise would be hypocritical. A lot of motherf*ckers don't have a relationship with their kids, and that's when they get on drugs and have suicidal thoughts and drive drunk. Me and my son is mellow. I'm his father, so I wanna show him the proper way because he looks up to me. What better way to get it than from the master?" I guess a family that smokes weed together stays together, right?
5. Willie Nelson
Another infamous pot-smoker is country singer Willie Nelson — who is the father of seven children. In recent years, Nelson even launched his own cannabis brand, Willie's Reserve, according to the Independent. "For a long time, I've thought it should be legalized," he told the Associated Press in 2017. "Now, different states are doing it, and next thing you know maybe a lot more states will do it." He continued:
I think the more people realize that it's more of a medicine than it is harmful ... It can be helpful. Just like anything else, you can overdo it and abuse it. I don't recommend that at all.
And there you have it! Kristen Bell isn't the first parent, by far, to ever smoke marijuana. (And she certainly won't be the last.) In fact, more parents today are smoking weed than in the early 2000s, according to data from the National Survey and Drug Use and Health. As long as caregivers partake responsibly — and aren't exposing their children to secondhand smoke — I say, to each their own.