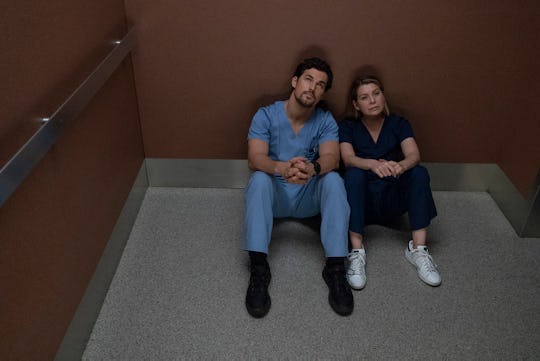 ABC
'Grey's Anatomy' Is Returning With The Conclusion To That Massive Cliffhanger
After a brief winter hiatus, everyone's favorite Seattle surgeons are returning as Grey's Anatomy resumes airing. If you're a true fan, chances are you spent the time off dreaming up theories for when Grey's Anatomy Season 15 returns (with three extra episodes!). Because the windstorm has left several of the main characters trapped in elevators.
Remember how important elevators were in the early seasons? George first proved himself to be a competent intern in one, and all of Derek and Meredith's "moments" seemed to take place in them. Elevators essentially equal sexual tension and potential death — both of which are on the table in the Season 15 midseason premiere as not one, not two, but three elevators full of our central characters are stuck. The windstorm sent a powerline crashing so the hospital is effectively shut down.
Obviously, we've seen this kind of thing happen before — remember the time Richard Webber almost died in the basement? Of course, there will be some reason or another why a backup generator isn't working, though how they don't have multiple at this point is beyond me. This is Grey Sloan Memorial, a hospital literally named after two of the many doctors who have died from their jobs there. We're way beyond bad luck here.
To recap: Bailey and the intern who is in love with Meredith, who goes by the nickname Hellmouth, are stuck in one elevator with a recently deceased patient whose organs are going to be used to save Cece, a matchmaker by trade who took a special interest in Meredith. (Cece's also lying prepped on the operating table which isn't great.) That's the C story, though. The B story is the love triangle of Owen, Teddy, and Amelia, which has finally come to a head as the three are trapped in their own elevator (with a man with glass stuck in his heart) and Owen is about to tell his ex-wife/current girlfriend Amelia that Teddy is pregnant with his baby (a fact he just found out about). And finally, there's Meredith, which brings me to my first theory...