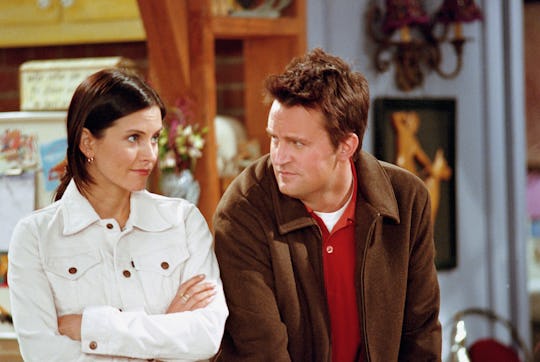 NBC/NBCUniversal/Getty Images
Courteney Cox Shares Favorite Friends Memory With Matthew Perry In Touching Tribute
As if we couldn't love Mondler any more.
Two weeks after Matthew Perry's sudden death at the age of 54, his TV wife remembered her Friends co-star in a touching tribute on Instagram. On Tuesday, Courteney Cox shared a behind-the-scenes story about filming the beloved sitcom, specifically one of the most iconic scenes in Friends history that kicked off Monica and Chandler's love story, with her friend "Matty."
"I am so grateful for every moment I had with you Matty and I miss you every day," Cox began her post. "When you work with someone as closely as I did with Matthew, there are thousands of moments I wish I could share. For now here's one of my favorites."
Cox went on to share some behind-the-scenes details about filming Season 4, Episode 24, "The One With Ross' Wedding: Part 2," where Monica and Chandler hook up for the first time in London. According to Cox, it was meant to be a "one night fling," but the writers changed their plans after seeing how the audience reacted to the surprising storyline.
"To give a little backstory, Chandler and Monica were supposed to have a one night fling in London," Cox continued. "But because of the audience's reaction, it became the beginning of their love story. In this scene, before we started rolling, he whispered a funny line for me to say."
Cox shared a clip of "what aired" from the episode and what didn't make it on TV. "You think he knew I was here?" Monica says as the audience screams, before adding a raunchy little outtake that was apparently prompted by Perry.
"Okay, your turn," Monica says to Chandler as they head back under the covers. Cox then breaks character and says to the audience, "We're kidding! He told me to say it, he did!" Meanwhile, Perry just sits there and smiles.
"He often did things like that," Cox added on Instagram. "He was funny and he was kind."
After that scene, Monica and Chandler became "Mondler" to millions of Friends fans. The TV couple moved in together in Season 5, married in Season 7, and became parents when they adopted twins in Season 10. And all of those milestones and memorable episodes may have gone a different route had Perry not refused to film a cheating storyline.
In an interview with TMZ, an extra on Friends, Lisa Cash, claimed that the writers had wanted Chandler to cheat on Monica in Season 5, Episode 23 "The One in Vegas: Part 1," after an argument. "The scene was Chandler and Monica were arguing in Vegas about Monica having lunch with [ex-boyfriend] Richard," Cash told TMZ. "And in our script, Chandler goes up to the hotel room and orders room service and I bring it up as a hotel worker. And we end up talking and laughing and connecting and Chandler ends up cheating on Monica with my character."
Perry, however, apparently had concerns and talked to the writers, according to Cash. "We had rehearsed it," Cash told TMZ. "And the day before we were supposed to shoot it in front of a live audience, I was told that [Perry] went to the writers and said the fans will never forgive [Chandler] for cheating on Monica."
Perry's other, non-romantic half on Friends, Matt LeBlanc, who played Joey Tribbiani, also shared a tribute to the late actor on Tuesday. "It is with a heavy heart I say goodbye," LeBlanc wrote on Instagram. "The times we had together are honestly among the favorite times of my life. It was an honor to share the stage with you and to call you my friend. I will always smile when I think of you and I'll never forget you. Never. Spread your wings and fly brother you're finally free."