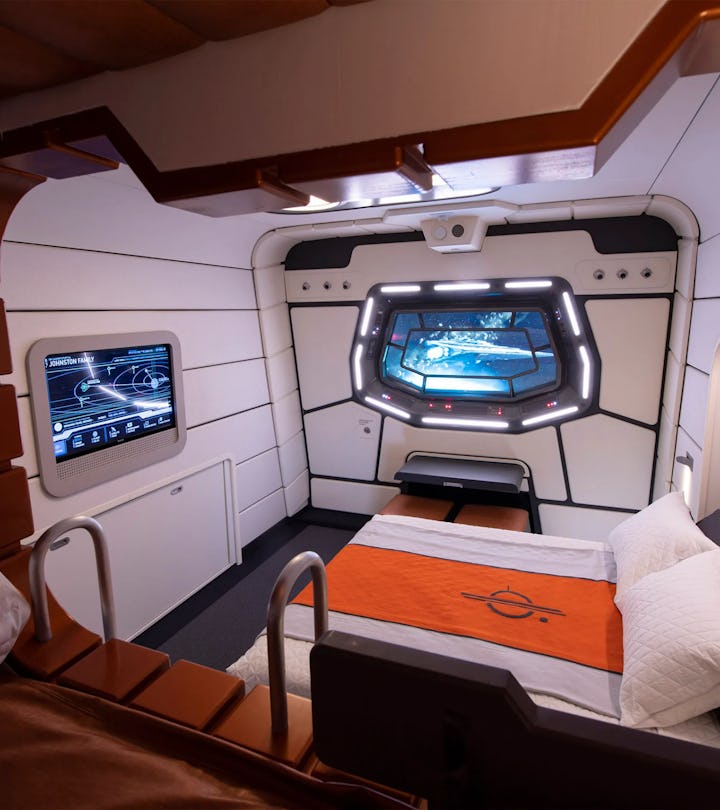 Image courtesy Disney/David Roark
Take A Look Inside Disney World's New Star Wars Hotel
A two-night stay for two starts at $4,809.
Disney World will take guests to a galaxy far, far away in 2022 with the opening of Star Wars: Galactic Starcruiser, a two-night, fully immersive adventure experience. To be clear, Star Wars: Galactic Starcruiser is far from being your ordinary hotel. Rather, over the course of a two-night stay guests participate in their own Star Wars adventure. Will you join the Resistance?
Before diving any further into what a stay at Star Wars: Galactic Starcruiser will look like, let's get one thing out of the way first: This experience won't come cheap. A two-night stay for two adult guests in a Standard Cabin will cost $4,809. Prices for a family of three start at $5,299 while prices for a family of four begin at $5,999.
But guests' immersive experience begins almost immediately upon arrival at the Star Wars: Galactic Starcruiser terminal at Walt Disney World. After checking in, guests will enter the "launch pod" that will transport them into hyperspace and enable them to board the Halycon starcruiser.
Throughout their stay, guests will find themselves immersed in an interactive story that will have them interacting with Star Wars characters, Halycon crew members, and even other guests. In some ways, it sounds at least partially like a choose-your-own-adventure story where guests can decide if they'll join the Resistance, follow the First Order, take up with smugglers, or just try their best to stay out of it all.
Star Wars: Galactic Starcruiser is expected to open sometime in the spring of 2022. Take a peek at what a stay will likely look like below: