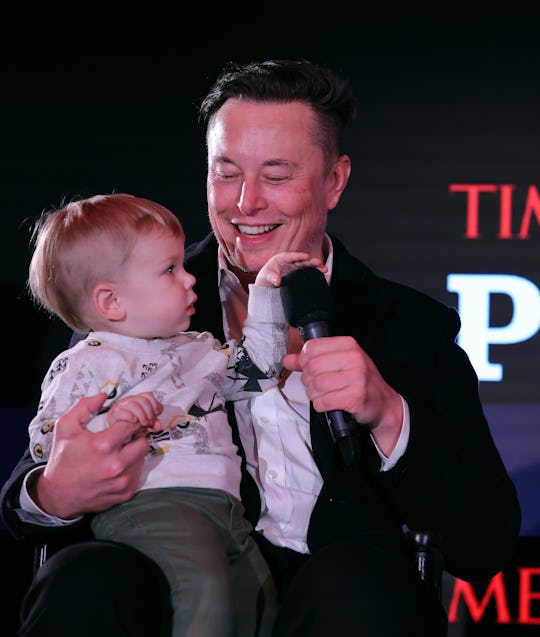 Theo Wargo/Getty Images Entertainment/Getty Images
Elon Musk Shares New Photos Of Son, X, With His Own Twitter Badge
Father and son were out on the town in San Francisco.
Elon Musk has observed on Twitter that, among wealthy people, he is "a rare exception" in his family planning choices. While "most people" he knows have no more than one child, the billionaire business tycoon, founder and CEO of SpaceX and Tesla Inc., is dad to six sons, two daughters, and two children whose genders have not yet been disclosed. He's had kids with three different women through natural birth, IVF, and surrogacy. This unique family (and some of the kids' hard-to-pronounce names!) is broken down for you, below.
Musk was named Time's 2021 Person of the Year and is estimated to be the richest man in the world with a net worth of over $224.6 billion, according to Forbes. Known for being somewhat eccentric, he's made headlines with some of his more outrageous ideas (habitation on Mars, for example). But perhaps one of his most interesting takes is when he told Wall Street Journal in December 2021 that he believes in the importance of having kids, a sentiment he has repeatedly addressed on Twitter.
"The foundation of the economy is labor," he said. "The fundamental constraint is labor. There are not enough people. I can't emphasize this enough, there are not enough people. And I think one of the biggest risks to civilization is the low birth rate and the rapidly declining birth rate."
Musk went on to say that some people think the population is "growing out of control," but he believes "it's completely the opposite." He added. "If people don't have more children, civilization is going to crumble. Mark my words."
In his personal life, Musk told the Wall Street Journal, "I'm trying to set a good example." He's welcomed six kids with ex-wife Justine Musk (formerly Wilson), who is a Canadian author, and two kids with ex-girlfriend Claire "Grimes" Boucher, who is a Canadian pop star. In July 2022, court documents obtained by Insider show that just weeks before his second child with Grimes was born, Musk welcomed twins with Shivon Zilis, director of operations and special projects at Neuralink, an AI company owned by Musk.
So far, Musk has a fathered 10 children and here's a look at what he's shared about them.
Nevada Alexander
Nevada Alexander was born in May 2002 to Musk and his ex-wife Justine. He died at 10 weeks old due to sudden infant death syndrome (SIDS). In an essay for Marie Claire in 2010, Justine wrote, "Nevada went down for a nap, placed on his back as always, and stopped breathing. He was 10 weeks old, the age when male infants are most susceptible to SIDS (Sudden Infant Death Syndrome)." The Sleep Foundation says the risk for SIDS peaks between one and four months.
Justine said paramedics resuscitated him, but "he had been deprived of oxygen for so long that he was brain-dead." Justine added, "He spent three days on life support in a hospital in Orange County before we made the decision to take him off it. I held him in my arms when he died."
In a 2018 email to James Riley, the father of 18-year-old Barrett Riley, who died in a Tesla car crash, Musk said, "There's nothing worse than losing a child." According to Bloomberg, Musk later wrote: "My firstborn son died in my arms. I felt his last heartbeat."
Vivian and Griffin
Twins Vivian and Griffin, 18, were born to Musk and Justine less than two years after Nevada died. In her essay for Marie Claire, Justine said the two were conceived via in-vitro fertilization (IVF).
In April 2022, just one day after her 18th birthday, Vivian petitioned Los Angeles Superior Court for a change of name, recognition of change of gender, and issuance of a new birth certificate. Documents cite the reason for the change to Vivian Jenna Wilson from her birth name as twofold: "Gender Identity and the fact that I no longer live or wish to be related to my biological father in any way, shape, or form."
Damian, Saxon, and Kai
Damian, Saxon, and Kai, 16, are the triplet sons of Musk and Wilson, also conceived via IVF. In a 2017 TedTalk, Justine told the audience, "So, I have five kids. Twins and triplets. All boys," she said, while laughing. "No multiples do not run in my family, and, yes, it was IVF, so let's just get that on the table."
In the same talk, she shared some of the typical mom things she often says, including, "Please, take the lightsabers off the dinner table," "You know, I would prefer it if you did not eat your brother's head," and "No, the dog is not a rocket, so you do not have permission to launch him." Those directives are all too relatable...
X Æ A-Xii
In 2020, X Æ A-Xii (formerly X Æ A-12) was born to Musk and Grimes. On Twitter, Grimes broke down what this unique name means. She said X is "the unknown variable," Æ is "my elven spelling of Ai (love &/or Artificial intelligence)," A-12 is "precursor to SR-17 (our favorite aircraft). No weapons, no defenses, just speed. Great in battle, but non-violent," and A means "Archangel, my favorite song" with the number "12" representing the rat in the Chinese zodiac.
In August 2022, Musk shared on Twitter that in he had previously given himself and X matching haircuts "after watching one too many episodes of Vikings." In December of the same year, the billionaire shared a picture of the 2 year old "in beautiful San Francisco," followed up with a picture of the little one's official Twitter badge clipped to his jeans, lending credence to the boy's mother telling Vanity Fair in April "I think E is really seeing [X] as a protégé and bringing him to everything and stuff."
Unnamed Twins
In July 2022, Insider broke the news that in November 2021 Musk welcomed twins with Shivon Zilis. Though the outlet did not reveal the children's names in order to protect their privacy, they did note that court documents revealed that Zilis and Musk sought (successfully) to change the babies names to "have their father's last name and contain their mother's last name as part of their middle name." The court filing also showed that the parents appear to be residing in the same multimillion-dollar home in a gated community in Austin, Texas.
Though the twins are older than Musk's youngest child by just weeks, news of their birth came after the announcement of his youngest child.
Exa Dark Sideræl
In the Vanity Fair cover story, Grimes revealed that she and Musk used a surrogate to have Exa Dark Sideræl in 2021, a daughter whose name they pronounce as "Y."
Exa references "the supercomputing term exaFLOPS (the ability to perform 1 quintillion floating-point operations per second)," according to Vanity Fair. Dark, meanwhile, is "the unknown. People fear it but truly it's the absence of photons. Dark matter is the beautiful mystery of our universe," Grimes said.
It is pronounced "sigh-deer-ee-el," which is an elven spelling of sidereal, "the true time of the universe, star time, deep space time, not our relative earth time." It also references Galadriel from Lord of the Rings, who "chooses to abdicate the ring."
Grimes and Musk also sometimes call their daughter, Sailor Mars, in reference to the manga series, Sailor Moon. They have not publicly shared any photos of Y yet.
But if you're waiting for news of any more babies, the prolific father and self described "autumn chicken" told the Financial Times in October, that he was "pretty sure there are no other babies looming" though he also didn't rule it out.
This article was originally published on