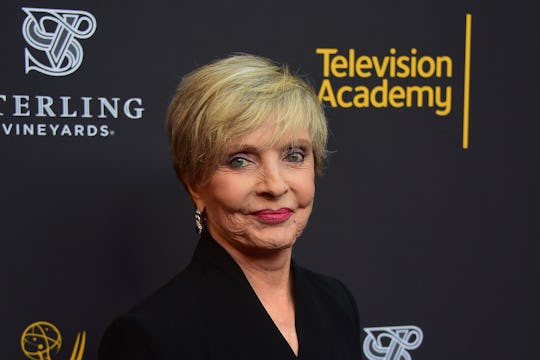 FREDERIC J. BROWN/AFP/Getty Images
Florence Henderson Dies At 82, Surrounded By Family & Friends — REPORT
Announced by her manager late Thanksgiving day, the Associated Press reported that Florence Henderson died at 82 years of age, surrounded by family and friends. The cause of death, as reported by Entertainment Tonight, was heart failure. Henderson played the iconic and forever loved Carol Brady on the classic ABC sitcom The Brady Bunch, solidifying her as the mom who could "do it all." (Romper reached out to Henderson's representation for statement.)
While Henderson's career spans over six decades, she is best known for her role as the matriarch of the '70s blended family; a role she played for five years. Perhaps it was Henderson's inspiration for the character that captured the hearts of so many Americans. On her Facebook page, Henderson wrote, "I played Carol as the mother I always wished I had, as the mother a lot of people wish they had." Henderson was also a working mother at the time, having had four children with first husband Ira Bernstein. She lobbied for Carol Brady to be a working mother as well, but the producers refused. The show was canceled, despite its popularity, after five years, but Henderson remained close to her fellow cast members. Her six "kids" from the show celebrated her 80th birthday with her, and she stayed close to Ann B. Davis (Alice) and Robert Reed (Mike) until their deaths.
Of course, Henderson did so much more than share the "story of a lovely lady." In 1962 Henderson became the first woman to ever guest host the Tonight Show, starring Johnny Carson. In the same year she landed a role as the "Today Girl," covering the weather and light news on The Today Show. The role would later be assumed by none other than Barbara Walters. In 2008 Henderson hosted her own show, The Florence Henderson Show, which snagged an Emmy nomination in 2010. The actress was also well-known for appearing in numerous commercials, and was the spokeswoman for Wesson Oil for over 30 years. Henderson also wrote a tell-all book, titled, "Life Is Not A Stage," in 2011.
Henderson was married to Bernstein from 1955 to 1985, and had four children; Barbara, Lizzie, Joseph, and Robert. She later married hypnotherapist John Kappas in 1987, after seeking treatment for depression. Kappas died in 2002, but inspired Henderson to become licensed in hypnotherapist.
It's safe to say that in 82 years, Henderson lived more than a hundred lifetimes. An author, an actress, a hypnotherapist, an all-around entertainer, and a mother not just to her own children, but six "television children" and countless TV fans around the world, Florence Henderson was and will forever be an icon.