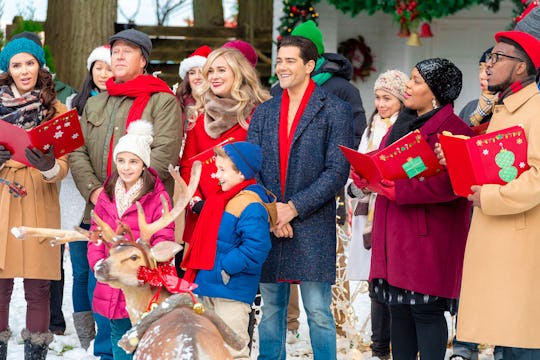 Hallmark
Hallmark's 'Christmas Next Door' Is Here To Bring You Holiday Cheer
Hallmark Christmas movies are never all that realistic, but a new one this year, Christmas Next Door, could be based on a true story. It's not, but some of the themes of the movie, like hating the holidays, the chaos that is having kids, learning as you go along, feel all too real. Which is precisely why the Hallmark channel is so genius when it comes to these feel-good holiday movies.
In this particular movie, Eric, played by Jesse Metcalf, is a certified bachelor who writes lifestyle books about, well, how to be a bachelor. He also isn't all that keen on Christmas so when he's left in charge of his niece and nephew for the season, he turns to his next door neighbor, April, played by Fiona Gubelmann, for help. She loves the holiday season and takes over, teaching Eric "some valuable lessons about the value of family, love, and the joy of Christmas, as seen through the eyes of children," according to the Hallmark description.
Although Christmas Next Door, like so many other Hallmark holiday movies, is totally fictional, it's addicting nonetheless. What's not to love about a cantankerous bachelor turned good with a little Christmas magic and perfectly cast love interest? Nothing, really. Which is exactly how the network wants you to feel.
If you love the Hallmark holiday movie marathons, you have one woman to thank for it: Michelle Vicary, executive vice president of programming and network publicity for Hallmark's parent company, Crown Media Family Networks, and she knows just what you want from your holiday TV movie binge. She told E! News, "[TheHallmark channel] own[s] Christmas and we are going to do it in a bigger way and a better way and really speak to the spirit of the season that I don't think any of our competitors do." So if you feel addicted to that holiday magic fix, it's all by design.
Just so you know, the movies aren't supposed to feel real. If anything, they're supposed to transport you to another, happier place, far, far away from the news cycle and all of your IRL problems. Vicary told Fortune in an interview about their holiday business:
The holidays are a magical time of the year when we think about connecting emotionally with family and friends. We all still want to have hope, faith, and love in our lives. Our movies are about tradition and the excitement of the season.
The ratings for the Christmas movies are huge, even when they run a marathon for "Christmas in July." So if you find yourself watching Christmas Next Door, and then 10 other movies that feel and look just like it, you're not alone.
Although the target audience of women 25 to 54 years old grows from year to year, according to Vicary, a lot of men are tuning in, too. Vicary said in the same Fortune interview that the "big surprise" is male viewers aged 18 to 49 years old. So don't let your male family members and friends pretend that they aren't enjoying it when you hog the TV.
According to Vicary, the Hallmark channel has made 33 new holiday movies this year as part of their "Countdown to Christmas" event, since people just seem to want more and more of them. Watching movies like Christmas Next Door, as cheesy as they may be, is good for the soul.
With reality as harsh as it is these days, Hallmark's Christmas Next Door, and all its other holiday movies, are better off being totally fictional.
Check out Romper's new video series, Romper's Doula Diaries:
Watch full episodes of Romper's Doula Diaries on Facebook Watch.