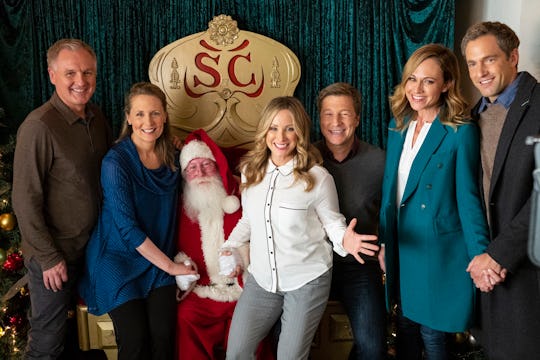 Hallmark
Hallmark's 'Reunited at Christmas' Tells A Heartwarming Holiday Story
When you're in the mood for those holiday feels, there's nothing more satisfying then watching a Hallmark holiday movie. The network's latest Christmas release, Reunited at Christmas, tells the story of a grandmother's dying wish to see her scattered family reunite again at Christmas time. The premise is completely realistic, so viewers are wondering, is Reunited at Christmas based on a true story?
According to the film's lead actress and executive producer, Nikki Deloach, the story of Reunited at Christmas was made for TV, and was based on a pitch she made. In an interview with TV Insider, Deloach revealed that she wanted to tell a heartwarming story of an atypical family. "I want people to take away that there are many different types of the families out there," she said. "When I pitched this idea, I wanted to have an ensemble cast and for them to be highlighted, not just the man and woman falling in love. I felt it was really important because it speaks to the entire family. There's somebody for everybody to relate to."
Reunited at Christmas tells the story of the Murphys, a family that has been disconnected through divorce and by their busy lives. When their matriarch, Nana Madeline (Beverley Breuer), passes away, she leaves the family with instructions to reunite at her home in Cedar Ridge, and revisit their holiday family traditions. Samantha Murphy (Nikki Deloach) has been lacking any kind of holiday spirit, so when she is forced to relive all those fun-loving holiday memories with her family, her Christmas spirit begins to show.
But when Samantha's boyfriend, Simon (Mika Faiola) surprises her with a proposal with her grandmother's ring in front of the family, she is put on the spot, and says "yes." She later tells Simon that she spoke too soon, so the couple has to put on a charade in front of the family and pretend to be happy. However, it seems that Nana Madeline's plans to inspire love within her family take effect, and may even play a part in Samantha and Simon's relationship.
The movie follows a family that you don't typically see on TV, especially at the heart of a holiday movie. Samantha's parents, Bill (Andrew Airlie) and Claire (Eileen Pedde) are divorced, so when the family gets back together at Christmas, the two are forced to face each other and talk about where their relationship went wrong. They soon realize that they can't even remember why they broke up in the first place, which may help them heal the divide they've had for years.
When talking to TV Insider, Deloach said that adding the parents' story line was important to the message of the movie. "The mother and father story line is actually my favorite of the movie, I love that they are two people who did get divorced and now they're kind of being brought back together," said Deloach. "What does it look like when a family's gone through that? What does it look like to re-imagine what the holidays could be?"
While it isn't based on a true story, at its heart, Reunited at Christmas tells a realistic family story. It focuses on the importance of family and love around the holidays, and hopefully, it will inspire families to get a little bit closer this year.
Reunited at Christmas premieres on Wednesday, Nov. 21 on the Hallmark Channel.
Season 2 of Doula Diaries shares the stories of fearless doulas helping their clients take control of their births and make tough choices that feel right to them. Watch the first episode of the new season Monday, November 26th.