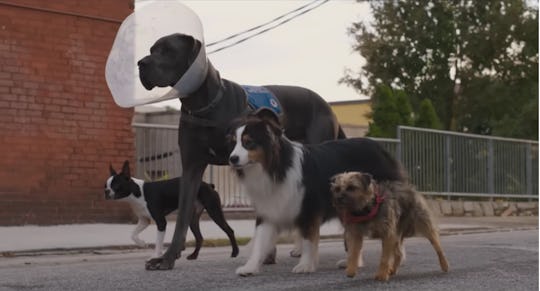 Universal Pictures
Strays May Be A Movie About Talking Dogs, But It's Definitely Not For Kids
The raunchy comedy stars Will Ferrell and Jamie Foxx
A summer winds down, so too does "blockbuster season," when movies usually fall into either "high budget action thriller," or "silly comedy." Strays, which was initially slated for June 9 but has been pushed to Aug. 18, is definitely in the latter category. With a proliferation of titles from franchises like Buddies and Pup Stars that bring together actual dogs and CGI, you might think this is just another family movie your kid will giggle over... think again. This raunchy comedy might feature adorable dogs, but it is far from kid-friendly. Here's what parents need to know.
Strays is about a a clueless dog abandoned by his owner.
Reggie, voiced by Will Ferrell channeling some leftover Buddy the Elf energy, is a sweet loving Border Terrier who doesn't realize his owner, Doug (voiced by Will Forte) doesn't want him, never did, and keeps trying to abandon him. When the cold-hearted human finally succeeds in ridding himself of the sweet pup, Reggie befriends a ragtag posse of other strays to get revenge on Doug... but not before traversing far and wide and getting into all kinds of raunchy adventures.
Strays is rated R.
The trailer gives you a pretty good idea of what you're in for with this bawdy comedy — there's a lot of swearing, humping and, despite being a movie about dogs, drug use.
Warning: the audio in the trailer is by no means safe for work... unless you work from home, in which case go for it!
... so it should come as no surprise that Strays is rated R for "pervasive language, crude and sexual content, and drug use." So, basically it's the R-rating trifecta.
The Strays cast is star-studded.
As is the case with pretty much any animated or semi-animated film these days, the cast is full of Hollywood heavy hitters and comedians, including the voice talents of Will Ferrell as Reggie, Jamie Foxx as Bug, Isla Fischer as Maggie, Randall Park as Hunter. In addition to Will Forte as the villainous Doug, the human cast is rounded out by Josh Gad, Harvey Guillén, Rob Riggle, Brett Gelman, Jamie Demetriou, Sofía Vergara, and Dennis Quaid as himself.
Tl;dr... you should probably call the babysitter.
Despite the fact that this looks like your run-of-the-mill talking dog comedy, this is a super raunchy comedy very much intended for adults. Though, we'll admit it: if you have a goofball middle or high schooler they'll probably love it. But as for your grade-schooler? You're probably going to want to keep them at home.