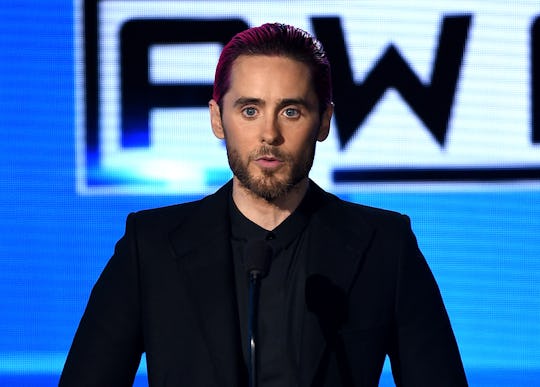 Jared Leto's Tribute To Paris At The AMAs Was Exactly What We Needed To Hear — VIDEO
A music awards show isn't necessarily the place you'd expect to hear someone perfectly summing up our collective thoughts and feelings about ISIS and refugees and terrorism, but when Jared Leto spoke about the Paris attacks at the American Music Awards Sunday night, just before introducing Celine Dion's performance, he said everything we needed him to say. He told the story of playing an impromptu show at the Bataclan with his band 30 Seconds To Mars earlier in the year, just so that they could spend some time in what he called "their favorite city in the world." Of course, that exact venue became a target of a brutal attack on November 13 where 89 people were killed by gunmen. Like far too many others, Leto and his band knew people who were at the Bataclan when it was attacked, some who made it out alive, and one — Thomas Ayad, a marketing manager for Mercury Music Group — who did not.
Leto's honesty and sincerity rang through his words as he spoke of the tragedy, and he quoted Antoine Leiris, whose wife died in the attack on the Bataclan, and whose defiant open letter to the terrorists has been shared with admiration around the world.
"Friday night you took an exceptional life," Leto read. "The love of my life, the mother of my son, but you will not have my hatred...You're asking for it, but responding with hatred and anger is falling victim to the same ignorance and hatred that has made you what you are. You want me to be scared, to view my countrymen with distrust, to sacrifice my liberty for my security. You lost. We are just two now, my son and me, but we are stronger than all the armies in the world."
His words at the AMAs also reminded us of some truths that have, in some cases, been overlooked when we've been talking about Paris: All cities that are affected by terrorist violence matter, and while we are debating whether or not to take in Syrian refugees, the truth is that America is a country founded on immigrants:
"France matters. Russia matters. Syria matters. Mali matters. The Middle East matters, the United States matters — the entire world matters, and peace is possible. By the way, many of us here are the sons and daughters of immigrants. [Like] Steve Jobs, the son of a Syrian immigrant, [and] President Barack Obama."
A lot has been said in the wake of the terror attacks in Paris (and most recently in Mali), and the debate about terrorism and safety and whether or not to close our borders to refugees is ongoing. But it was nice, at least, to hear someone finally talk so openly about what we've all been thinking and feeling, and a reminder that maybe it's not quite as complicated a situation as it's often made out to be.
Images: Kevin Winter/Getty Images; Giphy