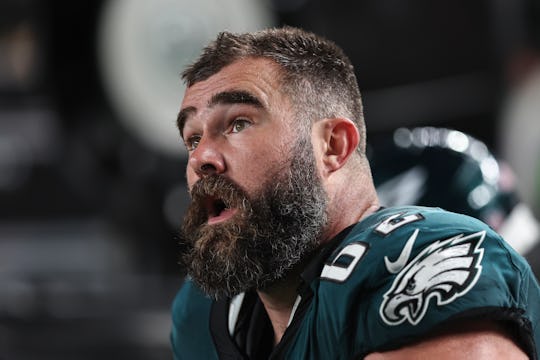 Michael Owens/Getty Images Sport/Getty Images
Jason Kelce Addressed That TikTok Of Him Eating & Napping While His Wife Was In Labor
"It could be worse, she could kill me."
Earlier this year, Philadelphia Eagles center Jason Kelce made headlines and not only because he was competing against his brother Travis on the Kansas City Chiefs at the Super Bowl. His wife Kylie was 38 weeks pregnant during the big game and gave birth to the couple's third baby just weeks later. To pass the time in between contractions, Kylie made a silly TikTok poking fun at how her husband was supporting her while she was in labor — specifically by eating bagels and bringing his own fan for naps. The video went viral and caused a bit of backlash online, but the parents didn't let the negative comments get to them.
In an interview People about his new Amazon Prime Video documentary Kelce, the NFL star was asked about how he handles criticism regarding his parenting and said he tries to ignore it. "We're all about positive energy. I think I'm used to people criticizing me, so I don't respond that much. Kylie gets a little bit more defensive, especially when people come after my fathering skills," Jason told the magazine. "We're just trying to have fun. Online, there's a way to interact like never before because of social media and all these forms of fan engagement. We like to have fun with it."
Kylie, who shares 3-year-old daughter Wyatt, 2-year-old Elliote, and 6-month-old Bennett with Jason, told People the couple "would rather make light of the situation."
"Did I think he should be standing by my bedside, holding my hands and staring at me the whole time? Absolutely not," Kylie told People. "If you could hear the audio on the bagel clip when he's trying to take a really big bite, you can hear me saying, 'Tell me about it. How is it?' Because I was living vicariously through him trying all the bagels."
In the viral TikTok, which posted in March, Kylie shared clips of Jason sleeping with a fan blowing on his face in the hospital room with her, taking a huge bite of a breakfast bagel sandwich, and napping on a recliner chair. "My husband crushes the role of labor support person," she captioned the video.
While many found the video funny, related to it, and made hilarious observations like "why is he eating the sandwich like a snake," it did attract some negative comments. But Kylie and Jasono told People they try to focus on the positive. "We find better energy in the idea of poking fun at it than taking it seriously and getting legitimately defensive," Kylie said while Jason added, "And it could be worse, she could kill me."
The couple, who met on Tinder believe it or not, shares more details and sweet moments about their life together in Jason's Amazon Prime Video documentary, like when the football star read Oh the Places You'll Go by Dr. Seuss to his daughters. And on Kylie's Instagram, we often get a glimpse of the relatable chaos they're living in with their three daughters, like when they decided to doodle all over her kitchen island. See? You can't take life too seriously.