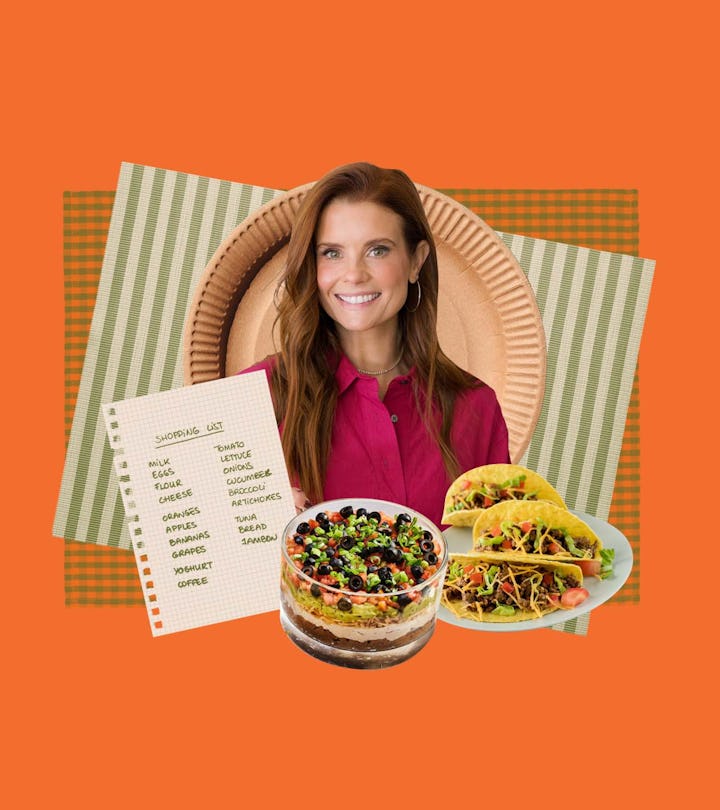 JoAnna Garcia Swisher On How She Makes School Nights Less Hectic
The Sweet Magnolias actress also talks about why she especially treasures dinnertime with her two daughters.
Between school, extracurricular activities, homework, and the very popular "yeah, it was fine" response, getting some precious intel about your kid's day can make a parent feel like an interrogation agent. Thankfully, JoAnna Garcia Swisher hasn't needed to use any fancy FBI techniques. While the Sweet Magnolias actress admits she'll take "any chance" she can get to hear about her daughters' days, she's found that even a quick dinner together helps her family connect.
"[Dinnertime] is definitely our time," Garcia Swisher tells Romper. "I do find that I hear a lot about the day in that little zone. Any chance that I can get to get details of my kids' day, I'll take it."
Garcia Swisher's daughters with husband, former baseball player Nick Swisher, have plenty to report. Her oldest daughter, Emerson, 10, is an equestrian and "can just get lost at the barn" for hours. Her younger daughter, Sailor, 7, is a dancer. "She's very much the performer in our family, loves to act and dance. She spends most of her day in a cartwheel." On top of all that, both of her girls are also in the school play. Indeed, there's a lot to discuss.
"I like all of my little chicks back in the nest by dinnertime so we can sit down and, even if it's 20 minutes, have a little time to connect," she says.
The Reba star has always valued family time. It's something her late parents, Jay and Loraine Garcia, prioritized in her own childhood. Garcia Swisher spoke to Romper about those family values, growing up in a Latin household, her recent partnership with McCormick, and her go-to taco night recipe with the brand's original taco seasoning mix packets that miraculously keeps everyone in the family happy.
What meals were like during your childhood?
Dinner was always a really important time, whether it was even just takeout or we were going to a restaurant. My parents were both really adamant about us sitting down together as a family. It is such an important time of day for me. I was raised in a family where family was everything. So having those special memories and those special moments, especially as life gets busier and busier, are really important to us.
Do you have any favorite family dishes from your childhood you still make today?
Oh yeah, I grew up in a very Latin household, so most of our traditions were based around my Cuban culture, my Cuban heritage. Picadillo and arroz con pollo, those are two favorites of mine. Our big meal traditions were kind of passed on, recipes from generation to generation. Also my mom was just a really great cook in general and she loved to entertain. So food is really the center of most of my good memories.
What are some of your daughters' favorite recipes you cook for them?
They're pretty good eaters. But even my husband too, they all eat different things, which is why taco night is such a crowd pleaser in our house because they all love taco meat and then it's easy to put out a variety of toppings. So everybody feels like they're getting their own customized meal, but really it's only taken me 15 minutes to get it on the table, which is so vital.
They all have their own little quirks and eccentricities. My husband is very adamant that he doesn't like the crunch of an onion. My older daughter has recently decided that she doesn't love cheese, but all she did was eat cheese for the first 10 years of her life. It's always ever-changing.
Do your daughters like to help in the kitchen?
Yes, we spend a ton of time in the kitchen, especially our downtime. I really love to cook, I love to bake. I don't claim to be an exceptional chef or a master baker, but I just sort of feel like it's just to get your hands dirty in something and to be together and to do it. It's like crafting, but with food. We spend a ton of time in the kitchen and my older daughter loves to bake and my younger daughter, strangely enough, loves to make breakfast. ... Before my mother passed away, [she] gave her this book called Silly Snacks and it has just inspired so many of these crazy little recipes that she does in the morning and it's really, really cute.
School nights must be pretty hectic? Do you have any weeknight dinner hacks to make the nights easier?
Very hectic, yeah. It's funny, someone posted the other day on Instagram that they couldn't handle people that meal prep and I was like, "I'm so sorry. I'm one of those people." But once you get into it, it really does make a world of a difference. It's really just about prepping my veggies. For instance, taco night, I kind of know what we're doing there. That usually is Tuesday, even though it sounds obvious, but that's a night we usually we have a lot of kids in and out of the house, so I tend to feed more than just my family on Tuesdays. Even prepping the diced tomatoes that my husband loves and all of those kind of things, just having that on hand makes throwing a meal on the table or throwing a meal together so easy.
I also just keep things really simple. There's no real complicated recipes, not a million steps. I may have the time and the desire to do that once a week, but most days it's really just about if we're going to throw something on the grill or roast some veggie. Little things like that that make it easy to have a meal that looks interesting and tastes good, but I've done a lot of the legwork.
Once everyone's fed and tucked into bed, how do you like to relax at the end of the night?
Oh gosh, when nighttime comes, I usually am so ready to fall asleep. It's nuts. I am definitely the kind of person where once the light goes out, it's like "night night!" So once I get through all of my little nightly rituals and all of that stuff, I will usually watch some TV with Nick and just hang out and chat for a little bit.
But I try to sneak in my relaxation time during the day, which is something I've been really trying to do this past year because I found I'm an avid reader. I love to read more than anything. It releases so much stress for me. But I wasn't getting much reading done at night because I was so tired. So even just carving out 30 minutes, it makes such a world of a difference. I was at Barnes and Noble the other day and I was like, "Why don't I read here more often?" It just felt nice.