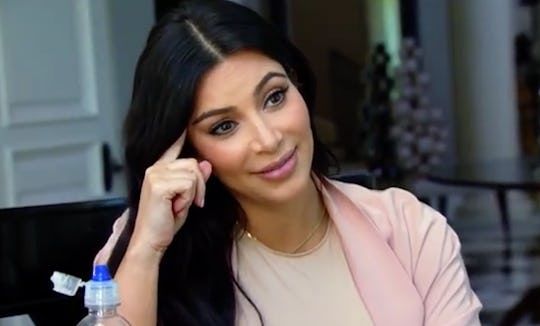 Kim Kardashian Is Already Planning For Baby Number 3, & 6 Other Celebs With Big Broods
Kim Kardashian has had a tough time being pregnant. If you happen to read her pregnancy updates via her website or app, you'll know that she's complained about having cankles and unhealthy cravings, and has even blogged about her her pregnancy has been the worst experience of her life. Despite all this, Kim seems to want a bigger family (following in her mom Kris's footsteps, perhaps?). In a preview of Sunday's episode of Keeping up with the Kardashians, Kim reveals that she's already planning for baby number 3, and already curious about how a third pregnancy will affect and change her body.
In the preview, she sits down with Kris (because all Kardashian-Jenner decisions are made seated around a table) and discusses her weight gain, mentioning that she's already gained 25 pounds, but is only halfway through her pregnancy at the time. Though she admits she's not worried about getting her figure back after having her son, she does reveal that she's already been thinking about what would happen to her shape after having one more baby after her son. More than anything, it was refreshing to hear just how positive Kim seems about her pregnancy weight gain the second time around. When she was pregnant with daughter North, Kim was the subject of every Internet jab and joke around. It was cruel. It was mean, and it was enough to cause any of us to curl up and count down the days until our due date. Though it's still problematic to hear so much of Kim's experience is still wrapped up in her weight gain (and loss), it was delightful to at least see that she has a healthier take on how her body is changing to make room for baby. But when she brought up baby number 3, it was pretty much to the shock and surprise of her momager.
Said Kris Jenner:
Whoa, can we just slow down and have number two?
Her sentiment is understanding: As Kim's mom, she wants her daughter to enjoy and experience what's happening now — and truly, she more than anybody understands the fun in that; she's got six children! But Kim, like her sister, Kourtney, has been vocal about wanting a big family, not just for herself and her husband, but also for her daughter. If Kim truly does follow through in having three kids, she'll be joining the likes of these other celebs will big broods.
Kelly Ripa
With actor Mark Consuelos, the talk show host has one daughter, Lola Grace Consuelos, 14, and two sons: Michael Joseph Consuelos, 18, and Joaquin Antonio Consuelos, 12.
Sarah Jessica Parker
The actress is a mom to two girls, Marion Loretta Elwell Broderick and Tabitha Hodge Broderick; and one boy, James Wilkie Broderick, with actor Matthew Broderick.
Gwen Stefani
The singer and judge on The Voice has three sons with ex Gavin Rossdale: Kingston Rossdale, 9; Zuma Nesta Rock Rossdale, 7; and Apollo Bowie Flynn Rossdale, 1.
Reese Witherspoon
The actress has one daughter and two sons: Ava Elizabeth Phillippe, 16, and Deacon Phillippe, 12, with actor Ryan Phillippe, and Tennessee James Toth, 3, with husband and talent agent Jim Toth.
Kristin Cavallari
With Chicago Bears quarterback Jay Cutler, the TV personality has two boys, Camden, 3, and Jaxon, 1, and one girl, Saylor, born just last month.
Jennifer Garner
The actress has three kids with Ben Affleck: two daughters, Violet, 10, and Seraphina Rose, 6, and one son, Samuel, who's 3.
Images: E! Entertainment/YouTube; KellyRipa, GwenStefani, ReeseWitherspoon, KristinCavallari/Instagram; D Dipasupil/Getty Images; Jason Merritt/Getty Images