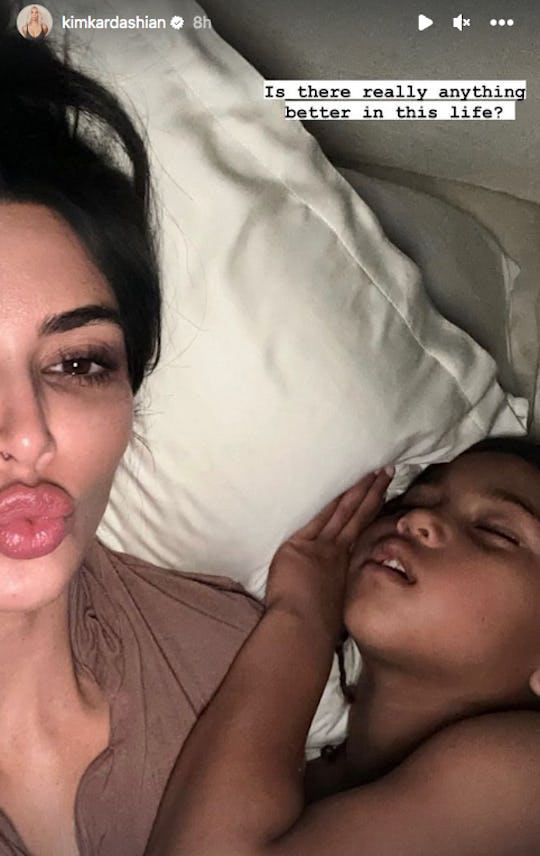 Kim Kardashian Shares Sweet Moment With Son Saint... Then It Takes A Turn
(And every parent has been there)
It is a rare occasion when an average person can say they relate to any of the Kardashians. The designer clothes, private jets, star-studded parties, and billion dollar bank accounts don't exactly lend themselves to relatability. While their business ventures may vary – from beauty to shapewear to supplements – the family's brand is always "aspirational." (You'll never be able to keep up, but you can try.) So when Kim Kardashian shared a sweet moment with her sleeping son, Saint, on Instagram, we were delighted that we could actually relate... and then, when things took a turn, we related even harder.
Kardashian shared a series of selfies of her and the 7 year old, her second child with ex-husband Ye (formerly known as Kanye West) in her Instagram Stories. Saint lies sleeping beside her as she purses her lips. In the second photo, very similar to the first, she writes "Is there really anything better in this life?" And, OMG Kim: no! We feel you! Snuggling a sleeping baby after a long day? Especially when that baby is older and you don't always get to do it like you did when they were itty bitty? It's the best!
The third photo, again, similar to the previous two but zoomed a little closer on Saint snoozing away, reads simply "This face." Again: YAS, Kim! Whomst among us hasn't gazed at their baby, their firstborn son, with this feeling of reverent awe and amazement.
But, truly, it was the final picture in the series that truly allowed us to connect to Kardashian on a level that doesn't come along every day. In this shot, we see only Kardashian's shoulder and part of Saint's head and shoulder. The majority of the frame is filled with pillow (sidebar: that pillowcase looks ridiculously luxurious and soft... because of course it does) and a caption.
"Forget it. He just punched me in the eye in his sleep and rolled over! Not as cute as I thought!"
Oh girl. We've all been there. Like the time my baby boy delicately held my face in his hands and I thought we were having a meaningful, spiritual moment and then he headbutt me in the face so hard I saw stars. Or the time I was making eye contact while nursing my daughter right before she decided that was a good time to bite down really hard. This is how kids keep us on our toes.
So yeah, mostly, Kardashian's life of fashion shows in Milan, working out with a personal trainer, and promoting her own skincare brands (all featured in her stories photos prior to this series with Saint) is beyond us. But this? This we get: we see you, mama.