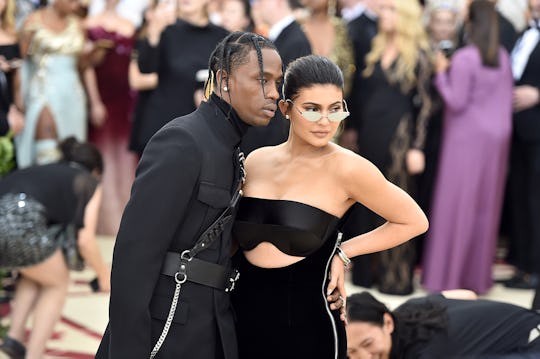 Theo Wargo/Getty Images Entertainment/Getty Images
Kylie Jenner Showed Off Stormi's Sneaker Collection & It Is Massive
There is nothing lowjey about anything Kylie Jenner does, so you had to know that once she was a mom, she'd go all out for her daughter. And she really, really has. On Tuesday, Kylie Jenner shared Stormi's shoe collection and people are loving it. Sure, most people on social media have pointed out that Stormi has more sneakers at 5 months old than most people have throughout their entire lives, but that's what being born a celebrity means. You can't hate on her shoe collection, at least not until Kylie shares some pics of Stormi rocking them.
Kylie took to Snapchat to show what The Daily Mail estimates is a $22,000 shoe collection that her daughter "can finally" fit into. The makeup mogul said that Stormi's dad, Travis Scott, had given his daughter some "vintage" Nikes (although the pair she picked up at the time is still in production) and it's likely that designers have gifted some, too.
The collection is vast, and includes some Giuseppe Zanotti toddler sneakers, which can cost anywhere between $400 and $1,000, a pair of $275 Gucci flats, and multiple pairs of Nike Air Jordans, which can cost anywhere from $50 to $100 a pop. So, Stormi's shoe collection is definitely worth a few grand, at the very least.
People Were Shocked That She Had So Many
The collection has been growing since before Stormi was even born. Over the course of the past few months, Kylie has taken to social media a few times to thank designers for sending Stormi some designer kicks and to show off her own purchases.
Like, Those Too Cute Giuseppe Zannotti's
Even Katy Perry Chipped In
Already, Stormi's Rocked Some Air Force 1s
It should come as no surprise that Stormi has only the best. Kylie and the rest of her family are showered with designer gifts all the time, as is evidenced by most of their unboxing Instagram Stories and Snapchats. On Tuesday, just before she shared Stormi's sneaker collection with the world, Kylie also took a video of a new dog house being built at her house — complete with heat, air conditioning, and running water. "It's like a guest house," she said. Now, her two Italian greyhounds, Norman and Bambi, have their own bedrooms with a fireplace in her mansion, so their own private guesthouse was bound to happen. If the dogs get air conditioning and a cozy fireplace, of course baby Stormi can have some Nike's and Gucci ballerina flats.
All of these little luxuries are typical of how much Kylie appears to be having all the time. In an interview with her sister Kim for The Evening Standard, Jenner said that being a mom has been full of only good things, and not just $1,000 sneakers.
Kardashian asked her little sister if the early stages had been "challenging." Jenner responded saying that it was the "complete opposite." She added, "I feel like it's just been so amazing, and so much fun. I'm learning so much more about myself and life, and it's been such a great experience.
She added, "Every time I leave and I'm stressed about leaving her, I'm like, 'I'm doing it for you.' Everyone says you change completely when you become a mom, but I really feel the same, just better. So I don't know what really has completely changed my world, besides her, of course. But I feel like it's only gotten better."
Jenner also added in that same interview that she feels less selfish, which means that Stormi's Nike budget might even start to mirror her own. It's true that $22,000 in shoes for a toddler seems excessive for some people. . But every mom finds their own perks when it comes to parenting, and outfitting Stormi in designer footwear seems to be one for Kylie. Now we just have to wait for some adorable pics of Stormi herself in those baby Jordans.