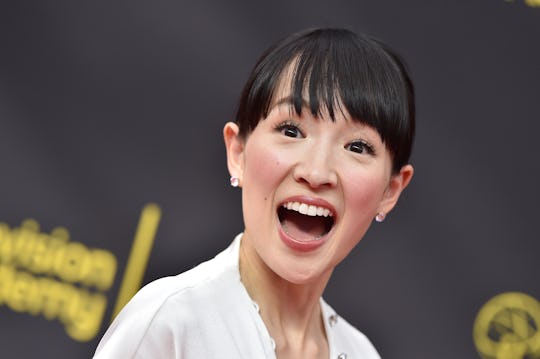 Axelle/Bauer-Griffin/FilmMagic/Getty Images
Marie Kondo Gives Up Tidying Post-Kids, Sparking Joy For Moms Everywhere
It's about figuring out what you really want to put in order.
We didn't need proof that keeping a tidy house when you have young children is really, really hard, but as of Jan. 26, 2023 we have it. In a recent interview with The Washington Post promoting her new book, organizing consultant Marie Kondo says she has "kind of given up" on tidying her house after the birth of her third child in 2021. "In a good way for me," she notes. This announcement indeed sparks joy.
Kondo, who developed the KonMari method of organization and cleaning, rose to prominence in the United States in 2014 when The Life-Changing Magic of Tidying Up was published in English. Ever since, she has retained her ability to stir up a lot of feelings in audiences. For some (*raises hand*) she "sparks joy," encouraging people to rethink how their homes are organized in order to find a deeper sense of contentment in peace. For others, apparently, an Asian woman asking "Do you love all 500 of these t-shirts balled up at the bottom of your basement closet?" is an affront to their identity and an attack on their way of life. More still just see her suggestions as a source of guilt: even with this good advice, they may think, my house is still a disaster.
But in this latest interview, Kondo talks about the fact that giving up on one area doesn't mean you've failed: her concept of kurashi, which roughly translates to "way of life," is bigger than a clean kitchen. Rather than focus on a perfectly organized home, which may not be realistic for some people and especially parents, she's encouraging readers to lean into little rituals that can create a sense of peace and joy: taking time for tea, for example, or just looking at something you love. Enjoying family time is another item that takes priority over folding laundry or filing papers. "My home is messy, but the way I am spending my time is the right way for me at this time at this stage of my life," she says. She later continues, "Now I realize what is important to me is enjoying spending time with my children at home."
It might be tempting for those of us whose homes have never been up to the KonMari standard (*raises hand again/please don't look in closet*) to feel not just vindicated but smug with this latest admission. "See: we told you this tidying thing was impossible and stupid!"
But while Kondo does have some standardized ways of, say folding clothes or deciding what objects to hold onto and which to let go of, results are, by her own admission, one size fits all. It's not about the house looking a particular way, it's about the house being the best place for you. For example, when comedian Hasan Minhaj asked Kondo if he should buy fifty more pens, Kondo asked if having that many pens made him happy. "Yeah, it makes me really happy," he replied without hesitation. She laughed. "Well then you have no option but to!" Because yes: tidy is good, but joy is more important!
"Tidying up means dealing with all the 'things' in your life," Kondo writes in her new book, Marie Kondo's Kurashi at Home: How to Organize Your Space and Achieve Your Ideal Life. "So, what do you really want to put in order?"
Honestly, this is such great advice and we love Kondo for acknowledging that shifting priorities happen to even the best organized among us!