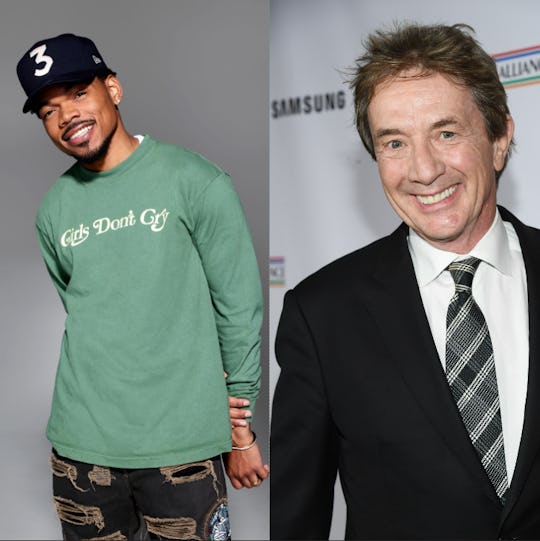 NBC/NBCUniversal/Getty Images|Variety/Penske Media/Getty Images
Martin Short Gave Up Seat On A Plane So Chance The Rapper Could Sit With His Daughter
Anyone who's ever flown with a young child knows how difficult it can be — schlepping them through the airport, keeping them entertained during the flight. It's just about impossible if you and your child aren't seated together. As awkward as it is to have to ask fellow passengers if they'd be willing to swap seats, every now and then a kindly hero steps up and offers their seat. and for Chance the Rapper, that hero was comedic legend Martin Short.
"So I just got on this plane with my daughter, and found out our seats weren't next to each other," the Grammy-award winning artist tweeted on Sunday. "I really ain't wanna inconvenience anyone by asking them to swap seats, but before I could say anything this kind older gentleman offered his seat to Kensli so we could sit together."
Honestly, the story could have ended there and been super heartwarming, from a famous rapper not wanting to put anyone out by requesting a seat-change to the kindly gentleman just offering to swap without hesitation. But the story continues...
"We both said thank you and as he stands up, I realize it's THE Martin Short!! So cool and Kensli freaked out cause she's obsessed with The Santa Clause 3. What an awesome person! SHOUTOUT TO JACK FROST"
First of all: referring to the Canadian comedian as THE Martin Short feels like the only way to address him, to be honest. From The Three Amigos to Only Murders In The Building — to say nothing of his Tony-award winning stage career — the man is a legend. We, too, would have freaked out. Secondly, the fact that Kensli, who is the older of Chance's two children with wife Kirsten Corley, is obsessed with The Santa Clause 3, a nearly 20-year-old movie, is pretty random and adorable. We just love the conflation of "feel good family story" and "celebrity quietly does nice thing" genres, and we're not alone.
"Typical Marty. One of the kindest, caring people I've ever known," TV writer Alan Zweibel replied to the tweet.
"That's because he's Canadian," declared @Scott Piatkowski, a sentiment shared by several other folks many of whom also happen to be Canadian. Personally, we think the kindness might also have been prompted by the fact that Martin is a father of three, now grown, children himself and parents get it.
But while most of the comments, were delightedly declaring Short the nicest guy ever, @tammyt_pike chimed in with another story of celebrity kindness...
"You know who is also a really nice guy…chance the rapper. I saw this young guy be so kind to everyone in a diner and it was Chance The Rapper & friends."
What goes around comes around, I guess! It's a good reminder to be a hero the next time you see a parent in a pickle on a plane.