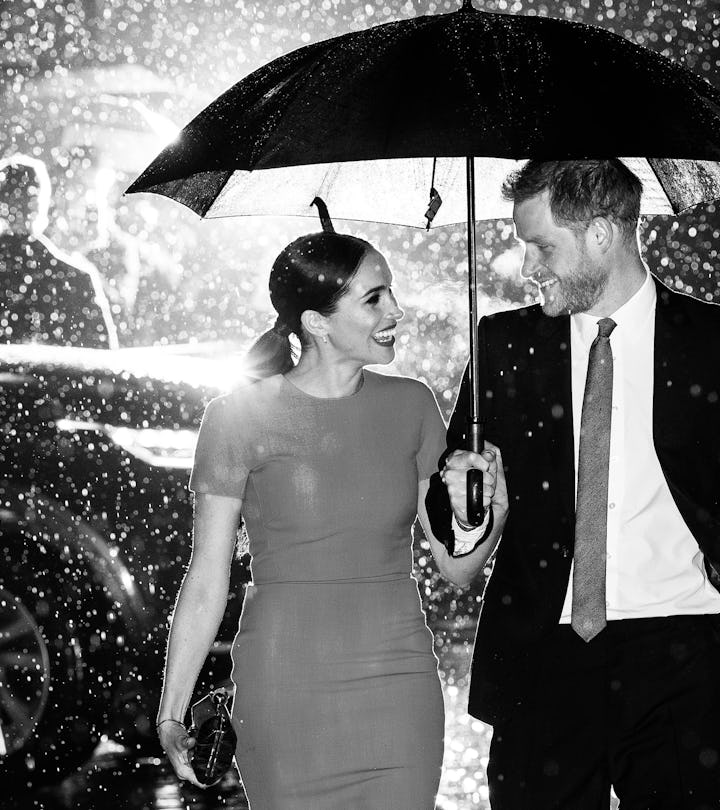 Samir Hussein/WireImage/Getty Images
A Month-By-Month Breakdown Of Meghan & Harry's Whirlwind 2020
The Duke and Duchess of Sussex have spent the year building a life together... independent from the British monarchy
Since they first stepped out as a couple in 2017, the Duke and Duchess of Sussex have been a subject of public fascination and tabloid mainstay. But one could argue that 2020 was Meghan Markle and Prince Harry's most significant year yet. On Jan. 8, the pair posted an announcement on their official Instagram page that would shock the world.
"After many months of reflection and internal discussions, we have chosen to make a transition this year in starting to carve out a progressive new role within this institution. We intend to step back as 'senior' members of the Royal Family and work to become financially independent, while continuing to fully support Her Majesty The Queen." They went on to say that they would split their time between the UK and North America, balancing their need for space with their commitment to serve the queen.
Thus began a new chapter in the life of two of our favorite royals, leaving many excited about what a liberated Duke and Duchess of Sussex would look like. Where would they live? What would they do? Did the writers of future seasons ofThe Crown will this high-drama moment into being?
We've gathered a month-by-month review of the couple's 2020 which, like everyone else's 2020, was full of surprises and didn't always wind up according to plan...
Moving forward, the Duke and Duchess of Sussex plan to return to England to visit Prince Harry's family. Royal biographer Andrew Morton suggests in The Sun that there are some important occasions across the pond that they want to attend — the Queen's 95th birthday in April, the Duke of Edinburgh's 100th birthday in June, and the unveiling of a statue of Princess Diana on June 1. They will also be renegotiating the terms of their "stepping back," ideally with less tension than the notorious Sandringham Summit.
But despite the drama and the whirlwind, it seems that the two have appreciated the freedom to live their own lives in 2020. We can't wait to see what 2021 has in store.