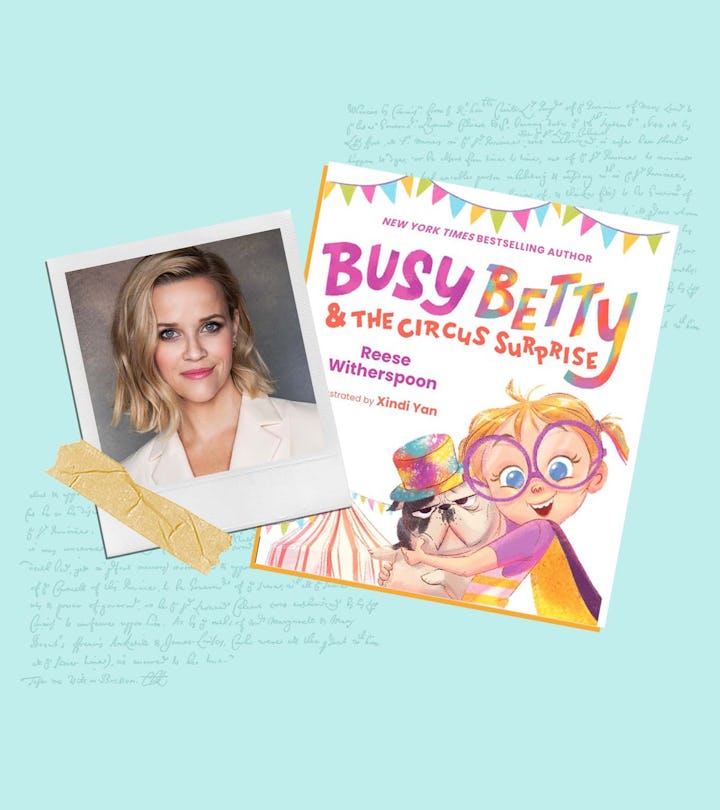 Reese Witherspoon's New Children's Book Is A Sweet Nod To Her Mom
Busy Betty and the Circus Surprise is the actress' second book in the series.
Busy Betty, the adorable character now starring in her second book, is a firecracker. An energetic go-getter who is often bursting with more ideas and enthusiasm than aptitude. And it turns out Reese Witherspoon didn't just write Busy Betty; she is Busy Betty. "I was always very high spirited," she tells Romper, noting that the idea for the character came to her after looking through old family photos. "I always had boundless energy and a million questions and so many ideas and that I was sort of this irrepressible spirit that my parents, now I realize, had to deal with." (Actress, producer, entrepreneur, businesswoman, and author Reese Witherspoon was a spirited, energetic kid? The woman who played Elle Woods in Legally Blonde and Tracy Flick in Election?! We're shocked: shocked we say!) But while the character was based on herself, the name of the character, and title of the book is a nod to Witherspoon's mom.
"My mom's name is Betty and I dedicated the books to her because she was so encouraging of my creativity and always believed in my dreams," she says. The dedication reads: "To my mother, Betty, who always cheered me on at all my performances. Even when they were just in the backyard."
Witherspoon writing her own series makes sense. In case you missed the actress' book club (and its ability to put an author on the literary map), Witherspoon is a prolific reader. It helps when you're a speed reader, something she didn't discover about herself until she tried audiobooks for the first time. "It went way too slow for me," she says. "I can't listen to audiobooks. I think it has to do with my learning style: I have to [physically] read things. I'm very visual."
Growing up, Witherspoon devoured childhood classics like Beverly Cleary's Ramona series, The Chronicles of Narnia, and A Wrinkle in Time. Her children seem to have inherited her love of reading as well. Her boys, Deacon, 20, and Tennessee, 11, both loved the Diary of a Wimpy Kid series, while big sister (and "big reader") Ava, 24 loved author Gail Carson Levine, who wrote Ella Enchanted among others.
Busy Betty and the Circus Surprise is the second book in the Busy Betty series, beautifully and warmly illustrated by Xindi Yan. It tells the story of Betty's latest idea (she has about a billion a day): she wants to throw her mom a surprise party! And it should be circus themed! But when she realizes mom's birthday isn't for another month, what is she going to do with all her glorious plans? It seems like everything is going wrong.
Failure is an important aspect of the series, specifically that readers witness Betty's reactions to it. "I wanted Betty to have real childish emotions where she loses her cool and has a temper tantrum sometimes, or feels like all is lost and she's on the floor crying," she says, noting that she and Yan spent a long time figuring out how to show this from a variety of perspectives. "But then she figures out how to pick herself up and dust herself off and I move forward.
"I think we get stuck in this idea of perfectionism or to do something," she continues. "I was never the go-to athlete or the best musician in music class, but I always participated with a lot of enthusiasm. And I think we have to encourage kids to try new things because we can get really stuck in this fear cycle of worrying what other people think of us. And childhood is the best time to experiment: that's what I try to encourage to my own kids."
Busy Betty and the Circus Surprise is available now wherever books are sold.