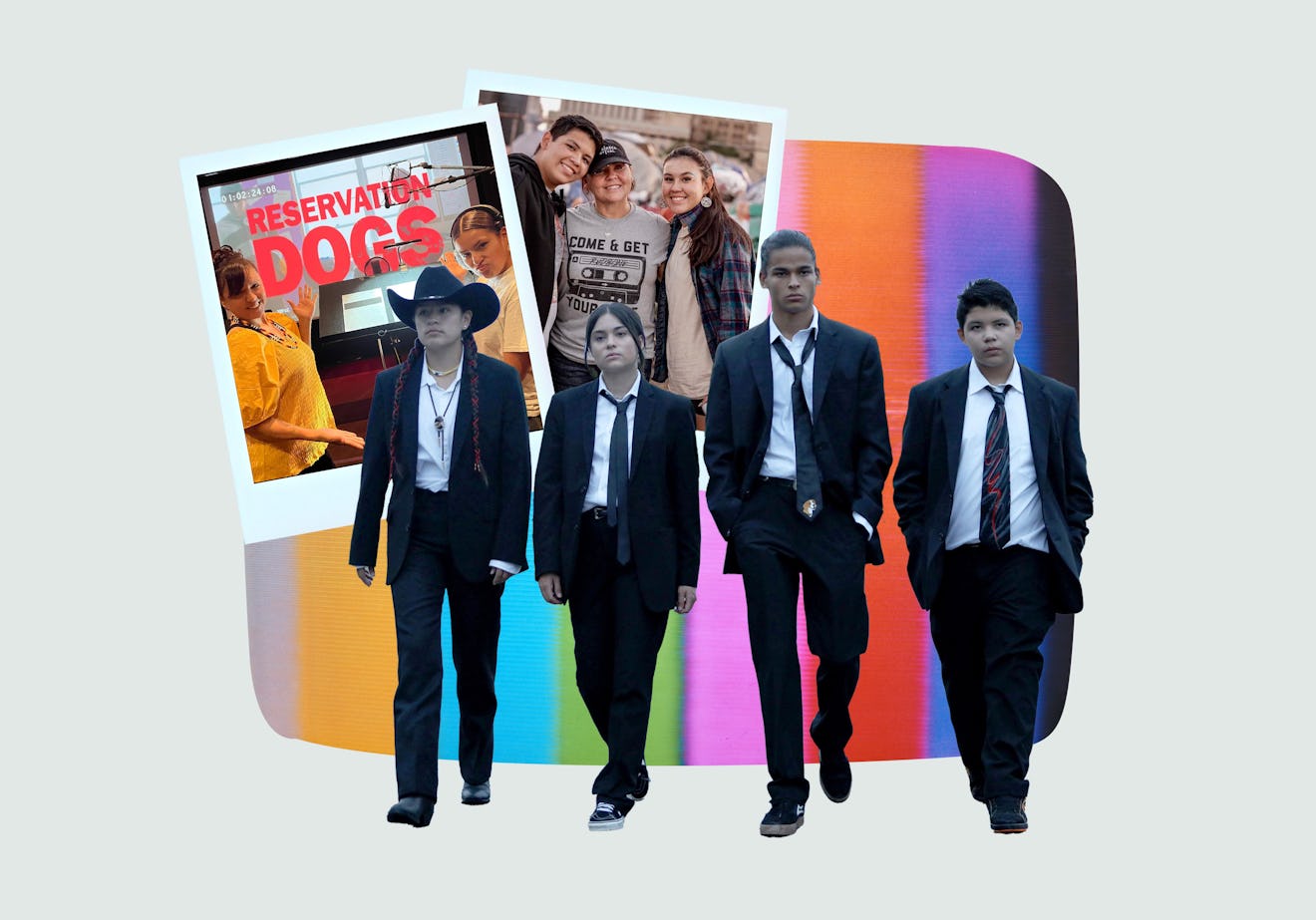 Raising The Reservation Dogs
Talking to the real-life moms of the teens who star in the breakout Native American series.
Reservation Dogs quickly captivated audiences when it debuted in 2021, following four Native American teens as they navigate life on a fictional Indian reservation in Oklahoma. The trailblazing FX TV show from creators Sterlin Harjo and Taika Waititi blends honesty, humor, and heartbreak as told through the lens of an all-Indigenous team of writers, directors, and regular actors. Since then, the dark comedy has earned countless accolades, like a Peabody Award and a Golden Globe nomination, while simultaneously shattering outdated, often ignorant assumptions about Native experiences.
At the heart of the show is a quartet of talented young Indigenous actors — Devery Jacobs (Mohawk), D'Pharaoh Woon-A-Tai (Oji-Cree/Guyanese), Paulina Alexis (Alexis Nakota Sioux), and Lane Factor (Muscogee Creek/Caddo/Seminole) — who we have quite literally watched grow up on screen.
So too have their moms, who have been the ultimate cheerleaders for their children from the very first audition, through three seasons on the Rez Dogs set, to the bittersweet end of the series this fall. For Yvette Alexis, whose daughter, Paulina, plays Willie Jack, and Kelly Factor, whose son, Lane, plays Cheese, it's the closing of an immensely meaningful chapter.
Yvette recalls that Paulina, now 23, was already a natural actor during her childhood on Canada's Alexis Nakota Sioux reserve, long before her big break starring in Ghostbusters: Afterlife. "That girl has been a handful and a half since she was born," she says with a laugh. "She has always been totally comfortable in front of the camera. My husband does a lot of video production, and [when they were little] her brothers had a little band that she'd sing Guns N' Roses with. She would tell me, 'Mom, I'm going to be on TV someday.'"
Kelly Factor's son, Lane, on the other hand, was reserved growing up in Mustang, Oklahoma, but still an entertainer. "When Lane was little, he was always acting out characters," Kelly remembers of the now 18-year-old. "He made his own costume and would run around the house with his arms back pretending to be Sonic the Hedgehog."
In other words, both actors are remarkably similar to their Rez Dogs characters — Paulina, the outspoken tomboy, and Lane, the big-hearted introvert.
Lane was just 14 when he auditioned for the series, his first acting gig. "I feel like Lane grew up with Cheese," says Kelly. "I have shared him with the world as he has hit all these milestones, like getting taller and his voice changing. It just makes me unbelievably proud."
Paulina also evolved alongside her character, Willie Jack, who has matured as she mourns the loss of her cousin to suicide — one of the many weighty subjects the series covers. "She has had to act out all these emotions related to these sensitive topics," says Yvette. "In real life, Paulina lost family while filming the show. But she has gotten a lot of strength from the other actors, who really helped her deal with that."
The four main actors are as tight-knit as their characters. Kelly recalls that while filming Season 2, Lane lost his grandmother to COVID. Upon his return to set after her funeral, the team was slated to shoot the episode "Mabel," in which the community says goodbye to a dying elder. "That hit Lane really hard," says Kelly. "He stepped outside to cry, and Paulina, D'Pharaoh, and Devery came running out to hug him and cry with him. Sterlin stopped production and came over to explain how they're all family. It just shows how caring the cast and crew have been."
Neither parent nor child could have anticipated the incredible impact the show would have, setting a new bar for authentic Native storytelling in all its unadulterated beauty. That includes skillfully showcasing issues that have long plagued Indigenous communities due to a history of colonialism and oppression, including disconnection, displacement, and disproportionate rates of addiction, disease, poverty, and suicide.
"It's just beautiful how Sterlin and the writers have told stories about everyday modern Native American life," Kelly says. "The world can finally see the atrocities we have gone through, such as boarding schools and forced assimilation. These are the realities of what happened — and not that long ago. We're talking just a couple generations back."
Yvette seconds that. "Our people have been through so much, and the next generation is here to tell that story. My family has always wondered where all the Natives were on TV. I'm really glad to see Reservation Dogs showing that we are still here and that we've been here all along."
Lane Factor, who plays Cheese, with his mom Kelly Factor and sister, Shelby
Of course, all that acclaim comes with its complications, especially for young Indigenous actors.
"As a mom, you're always in protective mode," says Yvette. Both moms have embraced the momager role, handling negotiations, contracts, and travel arrangements in the early days, but also striving to protect their kids from the more toxic aspects of the industry. "There's still racism, stereotypes, and unfriendly people out there. And because Paulina is a young Native woman, I make sure she always has family around her and is aware of her surroundings. Here in Canada and in the United States, we have the Missing and Murdered Indigenous Women crisis going on, so it's important to be aware."
Throughout the years, they have shared that parental role on the Rez Dogs set. "I was the only mom on set for Seasons 2 and 3, so I looked out for all four of them," Kelly says. "Even though Devery was older, I would still check on her along with D'Pharaoh and Paulina, because I know Yvette would have done the same for me. That's just part of mama bear mode — we watch out for each other. You see that in Native communities as well."
They joke about a time when Yvette had trouble reaching her daughter while filming, so she checked in with Kelly. "I remember that time this past season when you texted me, 'Hey, where's Paulina? She's not answering her phone,' and I tracked her down," Kelly says. "I told her, 'You better call your mama right now. She has been trying to get ahold of you all morning and is getting worried because you haven't responded.' So she picked up the phone and called you."
"It's burning like wildfire across the prairie right now. I hope that Native American youth watch this show and realize that anything is possible."
During Season 3, other family members got in on the Rez Dogs action, too. For the 1970s flashback episode "House Made of Bongs," Lane's sister, Shelby, plays a young Mabel and Paulina's brother Nathan plays a teenage Uncle Brownie (regularly portrayed by acclaimed Cayuga actor Gary Farmer). Kelly even makes a brief appearance in the series finale.
"Nathan is the comic of our family, alongside Paulina," Yvette says. "During the first two seasons, Paulina would call him when she was running lines and get his opinion. Those two scrapped it out a lot, but they're really close. When Uncle Brownie was first introduced on the show, Nathan was already imitating him, so I was so happy he got the part. He was just so into it."
A younger Paulina Alexis with her brothers.
Paulina Alexis (R) with her mom, Yvette Alexis (L), at the studio for Reservation Dogs
For Shelby, the cameo was the achievement of a longtime dream. "Shelby was always active in theater and was actually the reason Lane got into acting," says Kelly, explaining that both of her kids auditioned for Reservation Dogs. "Shelby took an acting class, and I made Lane go too so that he wasn't at home playing video games." Kelly recounts Shelby's devastation when her brother got a part but she didn't. "That was so hard, because you're excited for one child but heartbroken for the other. But she didn't give up, and we were beyond ecstatic when she got the role of young Mabel."
Both moms beam with pride reflecting on their kids' involvement in such a pivotal show, one that has not only opened the floodgates for authentic Indigenous representation but sparked an undeniable Native renaissance across pop culture. "We finally feel seen by the outside world, and there's healing that comes with that," Yvette says.
Kelly says they hear from Indigenous actors, models, and creators that the show has helped open doors. "It's burning like wildfire across the prairie right now," she says. "I hope that Native American youth watch this show and realize that anything is possible."
An Alaska Native Tlingit tribal member, Kate Nelson is an award-winning writer and editor living in Minneapolis. She is currently the editor-in-chief of Artful Living, and has written for publications including ELLE, Esquire, Architectural Digest, Teen Vogue, Bustle, Thrillist, Saveur, Civil Eats, Andscape, and more.